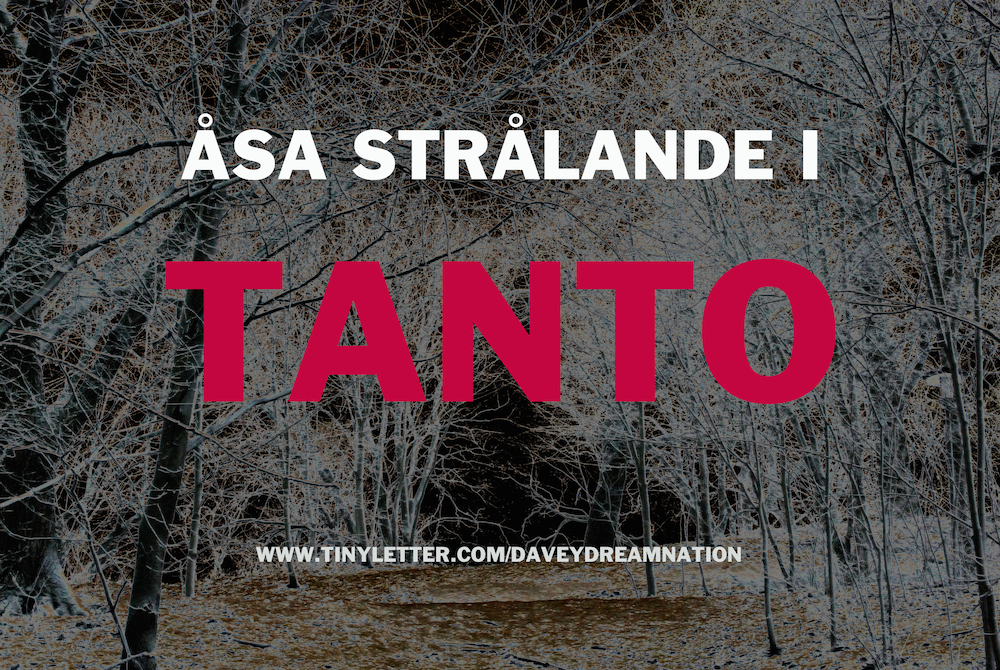 Long-term readers may recall that in 2011 I set up a poem newsletter project, 'Poem of the week!'.
As you may also recall, a total of 22 posts were sent to subscribers during the project's most active period, between October 2011 and April 2012. These posts were then compiled in a chapbook entitled Tjugotvå – twenty-two poems. I still think it's a great little book and have my subscribers (around 60 by the time the project wound down) to thank for helping make it possible, through their words of encouragement and our interactions via the newsletter.
Well, two years later I've taken the plunge again and decided to once again indulge my 'inner Swede', a barely three-year-old creature struggling with Swedish customs and language. Maybe it's because I've signed up for Swedish lessons, but I have a burning urge to write into life the strange world in which I live, where characters with names like 'Åsa' really do exist.
Åsa Strålande i 'Tanto', a new serial work of fiction, takes place in present-day Stockholm, and features locations and practices that will be familiar to residents of Stockholm but which may seem strange to non-Swedes (as may the dialogue, which is almost exclusively rendered in Swedish). However, the story also features several fictional venues and—needless to say—characters and is suitable for all readers over the age of 18. All you really need to know is that Tantolunden (or Tanto for short) is a park on Södermalm in central Stockholm.
The story will only be sent to those who have subscribed to the newsletter. The first episode of 'Tantolunden' will arrive in your inbox shortly. I look forward to sharing this strange and mysterious story with those of you who would care to join me on a journey to … 'Tantolunden' …