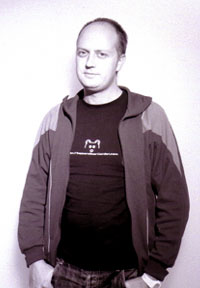 If you've ever wondered just what someone who's just spent twelve hours sitting in a series of overnight trains from Sapporo to Tokyo looks like, then look no further.
As related in a previous post, in January this year I was interviewed by Keiji [O'Banjo] Minato for the purposes of an article in Subaru magazine, a literary monthly put out by Shueisha, one of Japan's largest manga and magazine publishers.
Here's a snippet, as the full article is no longer available online:
近年、旧大英帝国の遺産を引き継いだコモンウェルスの文学が元気だ。南アフリカやカリブ海諸国出身の作家によるノーベル賞・ブッカー賞受賞が相次ぐなか、オーストラリアからも小説家ピーター・ケアリー、詩人レス・マリーなどが世界で存在感を示している。これらメジャー作家以外の豪州文学の近況はどうだろう? コンピューターを立ち上げて、オンライン詩誌『コルダイト』のホームページを開いてみてほしい。あなたのお気に入りのブログと同じぐらい簡単に、赤道の向こうでまさに書かれつつある詩の、その活況にふれることができる。

「でもケアリーはNY在住でもう豪州の作家とは呼べませんよ」このように語る詩人で編集者のデイヴィッド・プレイターは、自国の文学について楽観してはいない。だが国家政策としての多文化主義を突き抜けて多文化並存の現状そのものが国を揺さぶり、見方によっては面白く変えつつあるなか、新しい文学が培養される条件は整いつつあると見ている。彼の編集する、〈言葉は銃弾である(ワーズ・アー・バレツツ)〉と物騒なモットーをかかげ、〈紐状発火薬(コルダイト)〉というこれまた物騒な名前をもつオンライン詩誌は、この新たな状況を新たなメディアですくいとっている。

「創刊当初から私たちは、挑戦的で皮肉のこもった詩、ユーモアのある現代的なスタイルで最先端の課題に挑んだ作品を発表しようと努めてきました」

『コルダイト』で読むことができる作品は確かに、豪州の伝統詩であるブッシュ・ポエトリー(ユーモアを交えて田舎の厳しい生活を歌うバラッド)とはかけ離れている。現代的・実験的で、しかも遊びごころに満ちた詩群だ。さらに二二号に夏石番矢氏の俳句が掲載されるなど、詩人たちは非ヨーロッパ起源の詩からの刺激を求めているようだ。また各号の企画も大胆。編集者としても活躍する詩人に焦点を当ててみたり、最新号(第二三号)のように二○人以上に架空の詩人に扮して詩を書かせてみたり。もちろんネッド・ケリーを元祖とする豪州伝統のアンチヒーローをテーマとした作品で固めてみたりもする。

Keiji Minato, Subaru (2006)
The article, which is obviously in Japanese (don't even try to use Google or Babelfish to translate it, unless for some reason you'd like all of your stereotypes about cross-cultural misunderstanding to be validated), features two extraordinarily unflattering photos of me, and concerns Cordite and the place/space of e-zines in Australia.
Having been present during the interview, I guess it doesn't really matter so much to me what's in it. I would be curious, however, to know what other Japanese writers and poets think of online publication. More importantly, I'd like to know what happened to the 200 or so other photos taken for the article which do not appear online, including some quite embarrassing shots of me crossing my hands like a model.
Even those would have been better than the albino shots they've actually used. I'm just relieved I shaved off my beard before the interview took place.