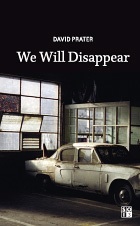 It's a quiet kind of milestone but my book We Will Disappear was launched
one year ago
this weekend at the
Melbourne Writers Festival
. Quiet in the sense that I am about ten thousand miles from this year's MWF, where some class acts and friends will be performing at the MWF
Festival Club
and elsewhere; a milestone in the sense that one year is a heck of a long time in the life of anyone
and
everyone, let alone a book. Anyway, just when I was beginning to think that We Will Disappear had fulfilled the prophecy of its own title and had quietly disappeared from the world of people and books, I got a message from an old friend saying:
I bought your book of poems in Brunswick Street last week. I'm really enjoying it. I like the one for the unknown waitress.
And you know, of course this made me feel a lot better. So for those who missed it, here's "(On the Tomb of) the Unknown Waitress". Happy birthday "We Will Disappear"!