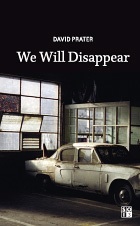 We Will Disappear, my first full-length collection of poetry, was published by papertiger media (Brisbane /Chiang Mai) in 2007 and launched at the Melbourne Writers Festival and the Queensland Poetry Festival. The writing of the collection was funded by a grant from the Australia Council for the Arts. The following text, originally published as part of my PhD thesis, Bonfire of the Vanity Presses: Self-Publishing in the Field of Australian Poetry (Swinburne University of Technology: Melbourne, 2010), describes the manner in which the book came about.
Construction and context
The contents of We Will Disappear are in reality a composite of several private and semi-private manuscripts developed over time. The book is presented as a thematic whole – in short, a 'debut' – while in actual fact over half of the poems contained within it had already been performed, sometimes more than once. In 2002, on a trip to the United States, for example, I wrote a series of poems, Between Empires, which I made available online. A number were later published in We Will Disappear. Later that year I began writing what would become my Masters thesis, a prose fiction novella entitled Marzipan: a Confection. While only two copies of this work have ever been made, it too can be considered a rarefied, private publication. My Masters supervisor, Tony Birch, ended up launching We Will Disappear at the Melbourne Writers Festival in 2007. In 2004 I also published two books in my capacity as editor of Cordite Poetry Review. The books – tom see's OI (2004) and Nick Whittock's covers (2004) – were produced using basic print-on-demand (POD) technology. These various publishing acts, though strictly outside the bounds of 'self-publishing' (and thus my PhD thesis), were also carried out within highly-codified fields.
The book is therefore a product of its long gestation, a common situation for a first-time writer. That all-important first collection becomes an amalgam of often many years' worth of writing styles and contexts. I'd in fact had the idea for a book called We Will Disappear ever since 2000, when I wrote the first draft of a poem called 'disappearer', which later became a pantoum entitled 'We Will Disappear' . Therefore the book as a concept existed for a long time before it became real. The poem was originally inspired by the Sonic Youth song 'Disappearer' (from the 1989 album Goo), and most of the other poems in the early incarnations of the collection took their names, if not their subject matter, from other Sonic Youth songs. The album Daydream Nation (1988), in particular, was name-checked in the titles of poems such as 'Space-Age Riot', 'The Sprawl' and 'Silver Rocket'. I first submitted We Will Disappear to a university press in 2002, on the recommendation of a friend. The manuscript I submitted amounted to a selection of the poems I had been writing for the previous three years. Unfortunately, despite some encouraging words from the editor, the manuscript was rejected.
Several other publishers expressed some interest but admitted that publication, if it happened at all, might take years. Between 2003 and 2006 I submitted my work to as many recognised journals as possible. In fact, this publication track record was of great use when I applied for Australia Council funding in 2004. The funding enabled me to substantially revise my theoretical manuscript, with many poems from the original falling by the wayside, and a significant number of new, more thematically-defined poems as well. It was not until August 2007 that We Will Disappear was finally published, by Queensland-based emerging publisher papertiger media, whose editor Paul Hardacre had asked me to send him a manuscript in 2006. The process of how I came to be 'asked' was a lot more complicated than that. papertiger had published my poem 'In A Dim Sea Nation' in their CD-ROM journal papertiger: new world poetry (Hardacre & Dionysius, 2002). The poem would later go on to be selected for inclusion in the University of Queensland Press' Best Australian Poetry 2003, the first poem published in a non-print format in Australia to be recognised in this way.
It's possible to view papertiger media's 'invitation' to submit a manuscript as a case of being in the right place at the right time. Having released the first three books under their soi 3 imprint in 2006, the editors decided to duplicate this publication schedule in 2007, with one substantial collection from 'mainstream' poet Barry Hill, another collection from 'established' poet MTC Cronin and a debut collection from myself, an 'emerging writer'. According to this argument, I actually benefitted from not publishing my first book earlier, as by the time papertiger invited me to submit a manuscript I was in fact a 'fully-emerged' poet, with a strong track record and a couple of grants under my belt, as well as several self-published books. Therefore it was not just a case of luck, but of hard work over a long period of time. From a manuscript of approximately one hundred pages, the editor and I whittled We Will Disappear down to fifty three poems, thirty one of which had previously been published in print or online journals.
Format and object
We Will Disappear is a perfect-bound, paperback book. Here are the specifications for the book as they appear on the publisher's website:
ISBN: 978-0-9579411-5-1
Author: David Prater
Title: We Will Disappear
Series: soi 3 modern poets
Language: English
Publisher: papertiger media inc
Pub date: 01 August 2007
Extent: 84pp
Height: 218mm
Width: 135mm
Thickness: 8mm
Format: Paperback
Distributor: Dennis Jones & Associates
Price: AUD$21.95 (inc. GST); NZD$24.95 (inc. GST)
Even a brief appraisal of these specifications shows that in several notable aspects – for example, the ISBN, the publisher, the distributor and the RRP – We Will Disappear is a completely different book from its predecessors. If you compare the front cover of We Will Disappear to that for The Happy Farang, for example, you will notice that while the former features my name proudly displayed above the title, in the latter the opposite is true. In fact, taking the front and back covers and 'French flaps' together, the cover for We Will Disappear mentions my name a total of seven times. It seems ironic then that it is The Happy Farang which is considered a self-published book, while We Will Disappear is not. If anything, to paraphrase Whitman, We Will Disappear 'publishes my self' in a far more comprehensive way than all five of my previous publications put together. The physical format for the book is just one aspect of this symbolic projection of the authorial self onto it.
The cover image, also taken by me, shows the interior of the Austin Car manufacturing plant on Dudley Street, West Melbourne. According to Shannon Bufton, 'the Ruskin Motor company had also used the building to manufacture body parts. Later on in its life it was used by the Commonwealth Department [of Administrative Services] to maintain its fleet of cars'. The car pictured may well be one of these sad old beasts. This picture has great significance for me personally. First, I got a job in this building as a barman at the Public Office when I first arrived in Melbourne in 1998, thanks to my friend Quinton Duffy (to whom We Will Disappear is dedicated). Second, in 2000 I spent six months or so living in the downstairs warehouse space known as the 109A project. Thus the front and back covers as well as the author biography on the inside back flap constitute a performance of my own personality, a way of presenting myself to the world that is made less vain only by the fact that it is carried out by an independent 'publisher'. To put this into perspective, not one of the previous five book objects I had published featured an image of me, let alone a biography.
Another factor that distinguishes this book from most of the other books I have made is that it was designed by Marissa Newell and typeset by Paul Hardacre in a professional manner, in accordance with a specific papertiger 'house style'. The book also features high quality paper and binding, a watermark and expensive fonts. We Will Disappear is also the first book of mine to feature a testimonial, by Australian poet Jill Jones:
David Prater's We Will Disappear is a full tilt swerving syntax for a crazy world — speedy, accurate, satiric, tender, intense, visceral, engaged. It's chocked with wake up calls and rhythms for the new century, sounds of cities, seas, planets, spinning and disappearing, and a lament for what's passing. All along Prater pitches a dark destabilising line then subverts it with an explosion of pure lyric joy. Formally inventive whilst also dropping beats of pop media jargon and all the transitory idioms we live in, this is a new language for all tomorrow's aching parties. Exciting, highly charged, and affecting.

Jill Jones
At 8mm thick, it has more spine than eight copies of The Happy Farang laid on top of each other but is still thin enough to pass itself off as a 'slim volume' of verse. It exudes enough prestige to be called a 'proper book'. I look at it and see ten years of my writing life.
The author photograph on the back cover was taken by Melbourne poet and good friend Sean M. Whelan, in a park in Fairfield. Since the publication of the book I have felt slightly uncomfortable about the size of this image: it's almost a little over the top, when compared with the slightly austere front cover. We Will Disappear, just like my other publications, is a performance of publication. Each of the five hundred copies is like a finely-crafted machine or engine designed to transmit and 'authorise' my credentials as a poet. There is no need for me to autograph, number or in any other way authorise its contents: the book authorises itself, and thus me as well. On the other hand as a printed book object the performance of We Will Disappear precedes its actual publication. The entire process of construction of the object, from manuscript submission through to final proofing, might also be seen as a performance or dance between two distant partners: a sanctioning 'editor/publisher' and an 'author/creator' seeking validation. This dynamic starts to change once the book begins to perform itself in public.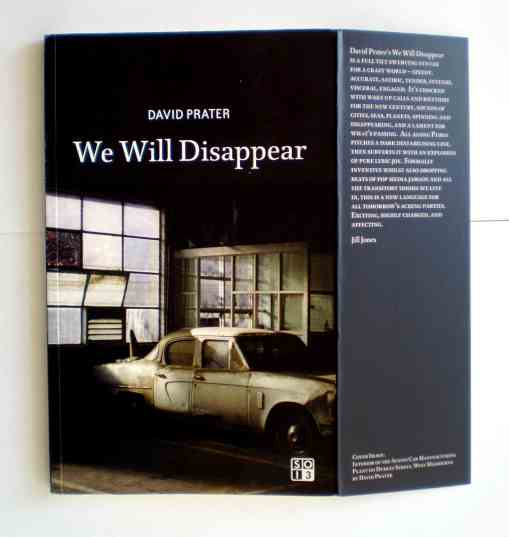 Performance and launch
Two launches were held for We Will Disappear, the first at the Melbourne Writers Festival (MWF) in August 2007, and the second at the Queensland Poetry Festival (QPF) in Brisbane the following month. Both were in fact launches for all three soi 3 books being published that year. The contrast between the MWF launch and my 2000 'launch' of The Happy Farang could not have been greater, while my QPF performances brought me back, full circle as it were, to that original performance. Here's how I described the MWF launch on my blog, several weeks after the fact:
Well, the truth is that I've been in and out of rehab since my book launch at the Melbourne Writers Festival, almost three weeks ago. That's what happens when you choose to drink a glass of champagne for each page of your book. And even with a 'slim volume' of verse, that's 84 champagnes . . .

By the time Tony Birch got up to launch my book I was packing death. My breathing was erratic and my skin had turned red. Tony said some very kind things, and then it was time to get up and face the music. Fortunately the reading went well — I pulled out all the classics, including "We Will Disappear", "The Happy Farang", "There's a Wild Jack Russell in the Moon" and "Identikit Nation", the reading of which allowed me to say that, finally, I had managed to utter the name of Punky Brewster at a Writers Festival.

After the launch it was straight outside to begin downing those 84 champagnes. The empties piled up and friends began to peel off, summoned to other duties, other champagne drinking contests. As the sun began to fade, I realised that it would soon be over, and that a chance like this comes only a very few times in anyone's life. I switched to schooners and then pints of champagne, until the Festival bar announced that they had sold out of copies of my book, now called "We Will Champagne". After a couple of fascinating conversations with several slightly-moist champagne glasses my champagnes dragged me away to the Champagne Bar where we champagned until the early champagnes of the champagne.

It was at around this time that I lost track of the number of champagnes that I had drunk and my champagnes and I decided to call it quits, surmising that I had probably passed my 84 glass target, with a couple of flutes to spare. What more was there left to do but trudge up to Stalactites to indulge in a champagne glass full of beef fat and lard, before heading up the long and windy road to Champagneshire . . .
This deliberately tongue-in-cheek account masks the intense seriousness of the event and its symbolic significance. For if there is one part of the ritual of book publishing in which consecration of the object occurs, it is the book launch. This was a very public and highly-orchestrated event that had been, when one thinks about it, over ten years in the making. Whereas in 2000 I 'launched' The Happy Farang by symbolically performing the book to the public, on this occasion not only were books available through the Festival bookstore but guests had also been invited by the publisher, drinks were made available before and after the launch, and a photographer was on hand to take pictures of the poets reading their works.
The event was MCed by Gig Ryan, the poetry editor of The Age – whose publisher, Fairfax, was also the Festival's major sponsor – and was attended by over 150 people. The launch was publicised via the publisher's website, the MWF website, the publisher's Myspace page and my own Facebook page, as well as a string of emails, telephone calls and face to face invitations over a period of two months. Compared with my other 'launches' the MWF launch was therefore a 'big deal' that involved a significant number of actors other than myself. When I read the title poem from the collection, with its last line 'the disappearance of our mothers', it was good to be able to publicly acknowledge my own mother and father, sitting in the audience.
What I found most interesting about the launch was the highly-ritualistic naming, validation and quasi-religious consecration bestowed upon the three poets whose books were launched, as well as my own feelings of self-validation afterwards. These feelings were in fact identical to what I felt after performing 'The Happy Farang' before an audience seven years previously. It was intensely satisfying, then, to have an opportunity to read this poem out again at the MWF, and to have that poem included in my first 'real' book of poetry. However, for all the highlights of the MWF launch, it was the QPF launch in Brisbane that really expressed, for me anyway, the tensions between the oral performance of poetry and the performance of a book of poetry. It's therefore worth discussing the differences between these two performances.
I actually appeared twice at the QPF. The first time was a 30-minute reading on the Saturday night of the festival, in the Judith Wright Arts Centre's large auditorium. This was in many respects a professional performance, involving a sound-check, the use of audio and a large stage across which to move. Ironically, I only read one poem from We Will Disappear; the remainder of my set was a mixture of performance pieces and other unpublished poems. The experience of performing in front of such a large crowd was daunting but rewarding in the end. I managed to authorise myself with a mix of humour, pathos and rhythmic vocals. The performance was casual and irreverent.
My second QPF performance was an 'official' soi 3/ papertiger book launch at the sober hour of 11am the following morning. This reading was structured in a similar way to the MWF launch, with readings from Margie Cronin, Luke Beesley and myself. While the Saturday evening gig was loud and amplified, the proper launch was quieter, almost reverent. This format suited readings of poems from the book, and each poet did so. As with the MWF launch, each poet was again introduced by a speaker. In my case, Melbourne poet Matt Hetherington launched my book with a few choice words. I read about ten poems from the book, and then we adjourned to the foyer for refreshments.
Circulation and public
These two performances of publication – one instant, live; the other pre-constructed, ritualistic – also suggest the existence of at least two kinds of audience or public. As stated previously, five hundred copies of We Will Disappear have been printed. The majority of these are handled through a distributor, and via the publisher's website. I have also bought a number of copies for my own private distribution. The 'public' for this book is therefore limited and, to some extent, quite strictly controlled. Copies of the book are available in several independent bookshops in Sydney, Brisbane and Melbourne. Launch attendees could purchase copies and have them signed. Non-attendees could order the book online and have it sent to them in the mail.
While sales figures are not currently available, as of September 2009 I had sold or given away fifty to seventy copies of the book myself, entering multiple copies for prizes and awards, mailing copies to reviewers and editors and so on. Nevertheless an assessment of the circulation or public for We Will Disappear needs to be based on something more than sales figures or numbers. To begin with, 31 of the poems within the collection had been published previously in print and online magazines and journals, many of them more than once. The combined readership of these journals is hinted at in the acknowledgements section in the front matter. The book addresses a multitude of readers, and fields.
This theoretical readership will always be confined to a number less than five hundred. In this respect We Will Disappear is exactly the same as any other entry-level collection of poetry: fighting for space in a small but well-defined number of retail outlets or, more rarely, online; and otherwise available either from the publisher or, more usually, the author him or herself. Once this essential cycle of the book's production is over, the performance of appreciation and recognition of the book as an object has only just begun. As such, We Will Disappear begins to perform itself. Once 'published' into the field, it attains certain forms of symbolic capital, the traces of which can be difficult to find, and even more difficult to describe accurately.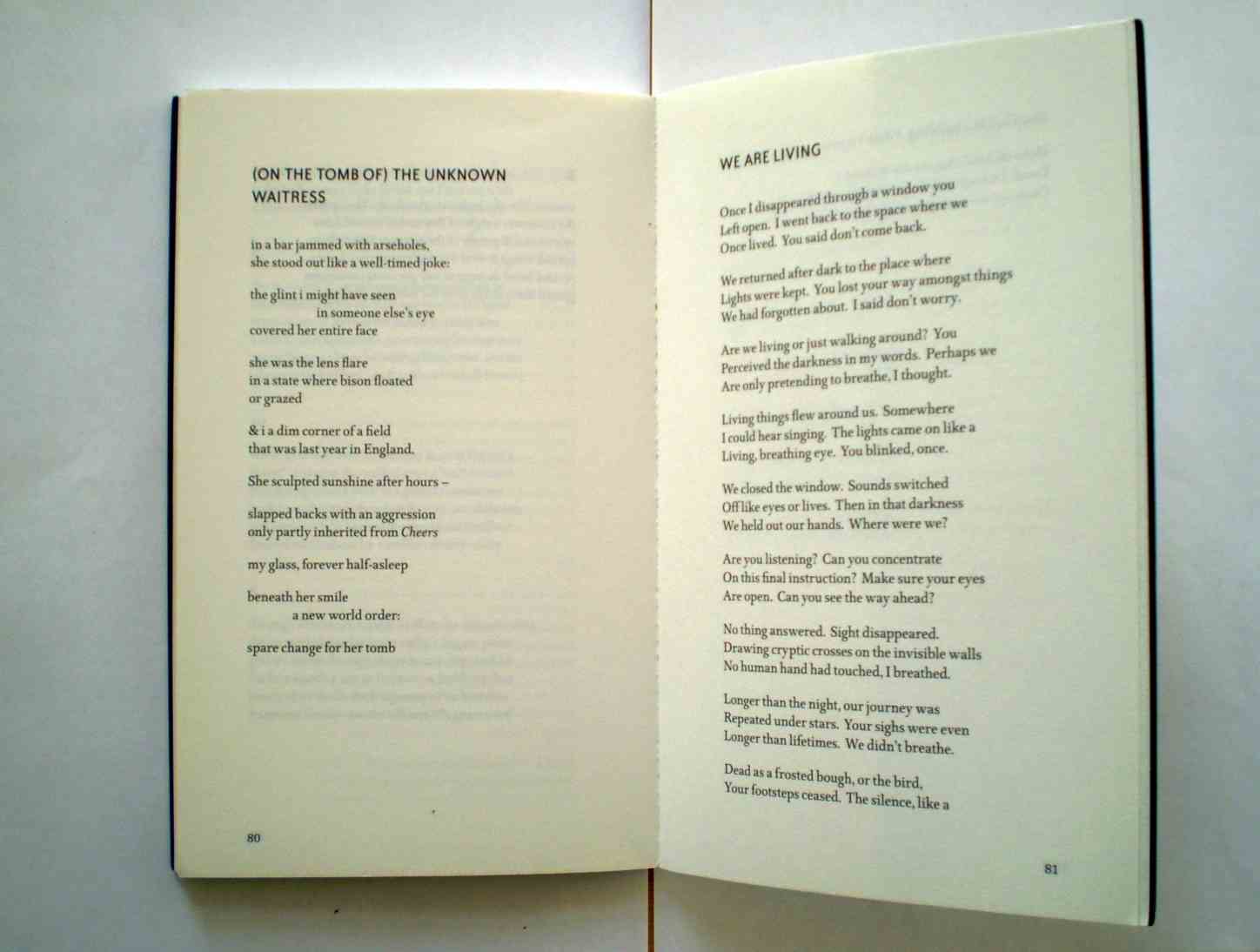 Reception and prestige
We Will Disappear has received a total of three reviews since its publication. The first of these was a review published online in Cordite Poetry Review. It was also reviewed on ABC Radio National's Book Show, and in the pages of The Weekend Australian. The book has also received favourable mentions on a number of websites and blogs. In some ways, this is keeping with the different contexts in which the poems within the book were originally produced – online and performative contexts, as well as the more traditional print. In another sense, even the production of these reviews can be seen as a reflection of the networked aspect of the contemporary literary field. The review in The Weekend Australian was written by Justin Clemens, who had launched Barry Hill's book at the MWF. The review on ABC Radio was written by one of my peers, Melbourne poet alicia sometimes. Finally, as the managing editor of Cordite Poetry Review, I am somewhat compromised by the publication therein of a review of my own book.
While the review that appeared online in Cordite Poetry Review was not commissioned by me and was written by an unknown reviewer, the fact is that I still feel somewhat nervous about leaving myself open to accusations of boosting my own 'vanity'. The writing of favourable reviews by friends or supporters is quite common, and can be seen across a variety of fields. One can point to countless examples of writers who have benefitted from such reviews, even – in the case of Whitman – gone to the effort of writing reviews under assumed names. The lengths that actors go to in order to disguise their connection with an author under review might be seen as a turning away from actual prestige that seeks to assert symbolic prestige. An author's acceptance of the implied social capital gained by these or any other kinds of review likewise implies a turning away from the dominated position in the field, where poets whose works have not been reviewed mark time.
The book communicates its prestige through its characteristics as an identifiable object: namely, as an example of subsidised publishing by an independent publisher. Most elements of the book's production were in fact subsidised by the publisher or myself, as well as arts funding agencies, festival organisations, literary journals and independent presses. In the same way, my attendance at the QPF was subsidised. Indeed, both events also benefited overall from subsidies from state and federal arts agencies, just as the writing of We Will Disappear was also supported by a grant. This subsidy economy sometimes presents itself as something that is not subsidised, in the sense that a certain prestige is attained by deferring or 'turning away' from the real sources of funding for the arts in Australia. Conversely, this deferral often glosses over the fact that many publications have been produced without any funding at all.
In this context, the presence of the logos of these funders acts as a double signifier: a symbol of prestige in the body of the text, like a visible watermark, whose presence invites a turning away from other economies in which the contents of the book have previously been produced. At the same time, the publisher and the author also 'turn away' from this act of patronage by asserting their own rights or watermarks. The prestige of We Will Disappear is therefore partly bound up with the way in which the publisher performs the various acts of publication, including ensuring that the logos of funders are performed in the text; providing bibliographic details including the names of the publisher and designer, the name of the author and the performance of the author's copyright assertion; and overall ensuring that this performance of the book's text is 'authorised'.
Archival and survival
Both We Will Disappear and Morgenland have been archived and catalogued by the Swinburne Research Bank. Copies of both books are also held by the National Library of Australia in Canberra. We Will Disappear is archived by the State Library of Victoria. A copy of Morgenland has also been deposited with the State Library of New South Wales. Compared with the haphazard archival of my previous chapbook publications, this has been an extremely well organised process, mostly due to the fact that it has been carried out by the publisher in fulfilment of their obligations under Australian copyright laws.
The fact remains that each of the 500 copies of We Will Disappear will sooner or later disappear. This is the unsubtle irony of existence, a subject with which the poems in the book seek to grapple, and which casts a shadow over its cover, its typography and photography. I wonder what the book will look like in fifty or a hundred years' time. I wonder if the book will exist at all. When we compare the 500 copies of We Will Disappear with the roughly 500 copies in total of the five chapbooks published prior to it, the question arises as to which representation of my 'self' is more likely to survive, or have the most significance over time. On the one hand, the high production values and relative permeability of We Will Disappear, along with its critical reception within the literary field, guarantees it some chance of survival. On the other hand, the five chapbooks have also circulated within a highly codified field, and have attained significance over time.
This is not to say that the contents of any of these books have remained constant. The analysis performed in this chapter could easily be applied to any poetry book object. Far from constituting a replacement for New Critical content analysis , in this reading book objects themselves are not inert; their movements, appearance and construction reveal substantial information about the fields in which they are circulated and read. More specifically, it is the poem that moves between fields, in a symbolic reflection of the underlying power relations that make such movement possible. The actual survival of these one thousand objects – the incunabula of my collected poetic output – will depend on more than an understanding of the literary field. In the end, it is the existence of readers – past, present and future – that makes such discussions possible.
This text was originally published as part of my PhD thesis, "Bonfire of the Vanity Presses: Self-Publishing in the Field of Australian Poetry" (Swinburne University of Technology, Melbourne, 2010).