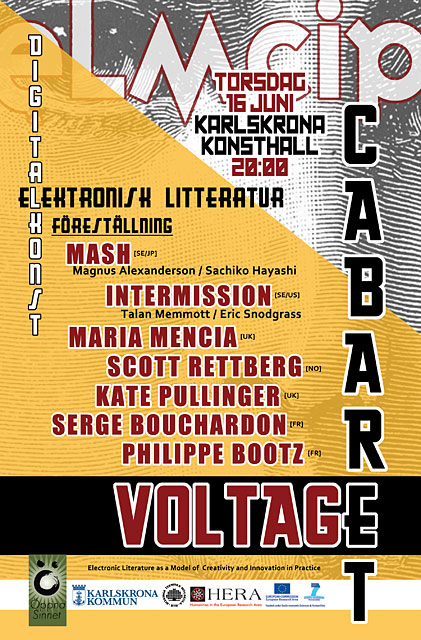 Things have taken a turn for the untold here in Karlskrona, with today's unveiling by Talan 'Mad Skillz' Memmott of a poster advertising the upcoming Cabaret Voltage event.
Scheduled to rock the Scandinavian e-lit scene in a manner not witnessed since the last Icelandic ash cloud, Cabaret Voltage will be the final event in a three-day extravaganza of electronic literature (otherwise known as the ELMCIP workshop on electronic literature pedagogy, hosted by our research group at BTH) and will feature performances, readings, shouties and even an on-stage game of chess.
While details of the exact names of the chess players remain under a media embargo, you're free to feast your eyes on the above piece of post-Soviet goodness, which we plan to paste up all over town. And if you're planning on coming along on the evening of Thursday June 16, you'd better get cracking, as I'm told all SJ train services on that day are almost fully-booked.
Okay, I'm only kidding about the train bit. And the ash cloud.
But the poster is real.