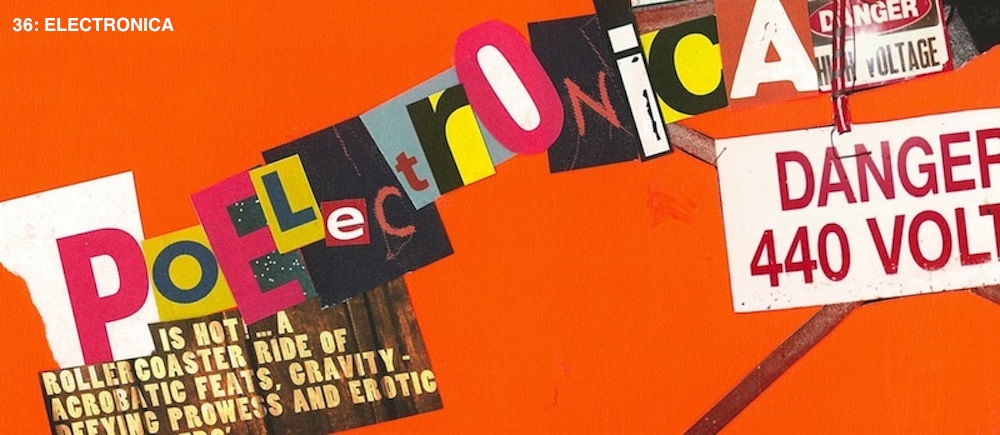 I'm a bit behind the eight-ball here, but all the same it's a real thrill to announce that Cordite 36: Electronica is now online!
The issue contains more poetry and poetics than you can poke a stick at. Here's a run-down:
Contributors:

Gemma Mahadeo, Paul Giles, w.m.lewis, michael farrell, Kevin Gillam, Danijela Kambaskovic-Sawers, Christopher Brew, Mark O'Flynn, Anne Gorrick, Misbah Khokhar, Angela Gardner, Greg McLaren, Mark Young, Scott-Patrick Mitchell, Derek Motion, Jessica Wilkinson, Stuart Cooke, Helen Symonds, Joyce Parkes, Sam Langer, Rory Dufficy, Derek Rawson, Gregory Horne, Jenny Powell, Chris Oakey, Louise Molloy, Jessica Bell, Phillip A. Ellis, Eddie Paterson, Joanne Merriam, Christina Armstrong, Susan Adams, Sean M. Whelan and Isnod, komninos, Philip Norton, Pascalle Burton, Emilie Collyer, Mark William Jackson, Ian Gibbins, Jason Nelson, Konrad McCarthy, Joshua Mei-Ling Dubrau, Benjamin Laird, Maxine Clarke, Gareth Jenkins, Crixus, Jamison C. Lee, Sara Moss, Adam Fieled, Bev Braune, Sally Evans, Tim Wright, Alice Melike Ülgezer, David McCooey and Joseph Baron-Pravda.
From Jill Jones' editorial:
Music can be read, obviously. It has its own visual patterns in composed forms, and in the 20th century musical notation has extended from common staff notation or tablatures, to other forms of graphic notation. The poem on the page also has its patterns, greatly enhanced by the digitisation of typographical design in the late 20th century. Sure, the Dada crowd were having fun with type a way back, not to forget our old friend, Mallarme. But the digital moves it onto other levels, layers and means of access.
I'm also happy to say I've got a couple or three pieces in the issue, the first of which is Tiny Steps: the Electr(on)ification of Cordite, a reflection on what it means to be 'electronic' or not when it comes to online poetry journals.
In addition, and as a reflection of my time spent this year working as part of the ELMCIP project, I've published an interview with Maria Engberg and an interview with Talan Memmott. Maria and Talan are my colleagues at BTH in Karlskrona, and it was great of them to spare some time to chat about all things e-lit.