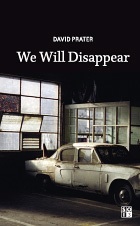 We Will Disappear navigates the landscapes of loneliness and solitude, drawing on ten years of transformative travelogues and engaging elegies. With its central preoccupations of global politics and power, We Will Disappear is a snub to the self-perpetuating philosophies, particularly in relation to war and terror, of Western 'empires', tempered all the while by the poet's gentle sense of acceptance and hope, as it maps the mysteries of mortality in a strange and fast-disappearing world.
The writing of the collection was funded by a grant from the Australia Council for the Arts.
David Prater's We Will Disappear is a full tilt swerving syntax for a crazy world – speedy, accurate, satiric, tender, intense, visceral, engaged. It's chocked with wake up calls and rhythms for the new century, sounds of cities, seas, planets, spinning and disappearing, and a lament for what's passing. All along Prater pitches a dark destabilising line then subverts it with an explosion of pure lyric joy. Formally inventive whilst also dropping beats of pop media jargon and all the transitory idioms we live in, this is a new language for all tomorrow's aching parties. Exciting, highly charged, and affecting.

—Jill Jones
We Will Disappear is an attempt to make sense of mortality and the essential questions of life and existence. From the mysteries of birth to landscapes of loneliness and solitude; from the inevitably political nature of human interactions to the seeming pointlessness of death and passing; from imaginary constructs of the mind to the transformative power of language in a strange and fast-disappearing world, this inventive, long-awaited and funny first collection overflows with references to pop cultural icons including Punky Brewster, Justine Bateman, James Mason, Woody Harrelson, Tintin and Mohammed Ali, and bands including Tortoise, Pavement, Sonic Youth, Slowdive, Bjork and AC/DC.
The poems collected here were written over a period of ten years. The collection embodies several significant time periods and places, from its late-twentieth century beginnings to more recent times. A good number of these poems were written while travelling in Asia, the United States and Europe, while some of the more significant elegiac pieces were written in response to Australian writers and writings.
Prater's half rhymes, alliteration and shuffle of syntax are heady. There's often a parade of phonemes teasing you. You try to wrestle-hold the words but they spin you around as if you were a Jack Russell hanging onto a little boy's tailcoat.

—alicia sometimes
If I had to name significant time periods they would include for starters the late 1990s, when the title poem and several of the more elegiac pieces were written; it was at this time that I first travelled overseas, to Thailand and Laos and experienced the world as a tourist (or 'farang' in Thai); much of my writing since has been written from the point of view of the stranger, or outsider; it is from this perspective that I reflect on the chaos and destruction wrought by Western 'empires' in the name of their own self-perpetuating philosophies, particularly in relation to war and terror.
Leading on from this, another significant period of writing was from roughly 2002-2004, in the 'post 9-11' world, during which my central preoccupations became more explicit. In hindsight it's no coincidence that I travelled to places like New York, Berlin, Hiroshima, and Ho Chi Minh City during this time, as my writing and thinking during these trips was focused on making sense of the atrocities and horrors that have come to be associated with such places. As an Australian, I am aware of the naivety of the position that these events are 'distant' from us, or have already disappeared into history – the fact is that as a human being I am inextricably linked to the workings of global politics and power.
We Will Disappear pops and buzzes with references to drugs (Dexedrine, grass and cigarettes), military hardware (atom bombs, Semtex, F-15s and Minutemen) and virulent diseases (SARS), not to mention communications technologies, both current and defunct (satellites, radio, daguerreotypes and computer coding). Relentlessly racy, Prater hits hard and fast in his attempts to keep up with the wrenching juggernaut of our times.

—Justin Clemens
The third and perhaps most significant period of writing represented in this book is 2005-2006 when I was lucky enough to receive a New Work Grant from the Australia Council for the Arts, and was able to complete some more thematic poems to round off the collection. These poems can be characterised by a perhaps greater sense of urgency and anger, although the two poems that 'bookend' the collection – 'Abstract Moon' and 'We Are Living' – do contain a more gentle sense of acceptance and hope.
Informed by the knowledge that human life is short and complicated, the poems of We Will Disappearconstitute an attempt to write these truths in a language informed by the realities of 21st-century life, as well as the passing of close friends and family, famous and not-so-famous poets, even animals and ideas.
One famous poet whose spirit haunts this collection is Bruce Beaver, for whom the poem '(On the Tomb of) Victor Bruce' was written, shortly after his death.
I was fortunate to meet Bruce in the early 1990s when I was writing my Honours thesis on his work in relation to that of Rainer Maria Rilke, and I can't stress enough how much of an impact that meeting, and his astonishing ouvre of poetry, has had on my poetic development. He was an everyday god, and his passing is a great loss.
Beaver was also, however, ultimately aware of the transience of all things and of the inextricable link between what Rilke referred to as celebration and lamentation – two words that, I hope, sum up what I am trying to do with my poems in the all-too-brief time I have left in which to write them. My poems are ultimately aware of their own transience, in an imaginary sense. The poems will disappear. We will disappear.
We Will Disappear (2007)

[envoi]
In a Dim Sea Nation
Abstract Moon
We Will Disappear
(On the Tomb of) Victor Bruce
Northern Rivers Pastoral
While Your Children Are Small
In Heaven It's Always Raining
Avalon V
Airliner
Post-Holocaust Tram
Between Empires
1001 Nights
Dexedrine Bombs
When We Were in the Wild
Lovers / Lateness
Ada
Ken
Japanese Bush Poet
The Happy Farang
Non-Touristic Trek
Tintin & the Plain of Jars
The Chao Le
Ich Bin Ein Tourist
Od(e)
Entgegengesetz
Fassbar
Kerze 1
We Miss You!
Spring*
Peace Falls
Bustling
A Veteran of the Club Scene
Identikit Nation
City Slacker
There's a Wild Jack Russell in the Moon
The Bloody Hollys
Ma Sonic
Code Pervin'
Let's Fight the Pop-Ups!
Machines for Living In
Search Poem #9
Kyoto Crow(s)
Betty Conquers All
Silver Rocket II
'Wounded or Sound': The Death March of Johnny McQueen
Karin Revisited
Unmarked Harlem
She Finds Her Speed
The Rise & Fall of Davey Dreamnation
(On the Tomb of) The Unknown Waitress
We Are Living
Caroline
5 Haiku SMS