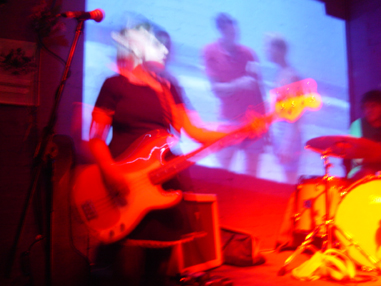 Just in case anyone was suffering under the impression that I'm something of a man's man, here's a little image I look at every time I visit the wonderful Page 4 website of Australasia's most popular, talented and BULK ACE poet, alicia 'sassy pants' sometimes!
Seeing her in action on the wheels of steel last Wednesday as an accoutrement to the talents of the Bedroom Philosopher, one was struck by sassy's eclectic musical tastes ranging from Rolf Harris (his incendiary track 'Sunrise' providing an eerie beginning to the night) to a German version of 'Ring of Fire' that was actually about 4000 cars or bars or something.
I often think of asking alicia what sustains her, but so far have not got up the courage to do so. I suspect if anything sustains her at all, it's a small nip of Bailey's and some kind of tart.
A supremely dangerous poet, alicia co-hosts Triple R's Aural Text show every Wednesday at 12 noon. I heartily recommend listening to it over the internet. She has apparently performed at over 3000 spoken word gigs and has the fliers to prove it.
And speaking of fliers, check out this little doozy, a promo poster for next month's Babble on Wednesday May 3, featuring alicia and her sassy band, Luster. The open mike section will be a surf theme, so bring yer crystal cylinders. I've dusted off the Ciaks— what's your excuse?