Now that the major effort is over and the social media sites have been updated it's time to note, for the benefit of the Dreamnation's single reader, the release of Cordite 33: Creative Commons.
Our guest poetry editor for the issue is Alison Croggon, and she's done a great job selecting a bustling swag of new poems. In addition, our features editor Matthew Hall has assembled a stellar collection of essays, interviews and feature articles; and our spoken word editor Emilie Zoey Baker has done the same, selecting six slick audio tracks for your aural pleasure. In further addition there's the usual assortment of reviews, images, news items and so on and so on. Check it out. Last but not least, we're now inviting remixes of the issue – get all the DJ details here.
I'm really proud of this issue, not least because I've been working overtime on a re-design of the site and while it ain't perfect, it's a lot better than our clunky old WordPress default theme mod. That being said, I'd like to pay tribute to afore-mentioned clunky old default theme mod, in the knowledge that from today onwards the only record of its passing will be found within the NLA's Pandora Archives, and here: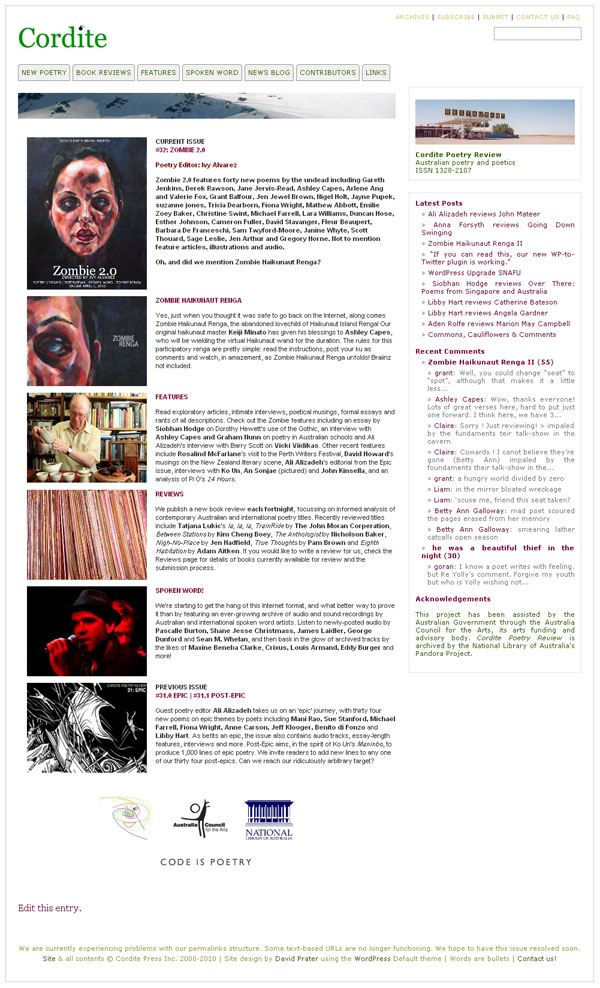 We will never see the likes of it again.
*Sniff*