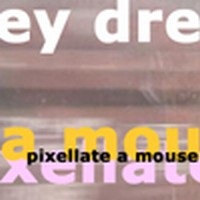 DNRC006 | 7″ single | 2002 | DELETED
Events took a turn for the sensational in the southern hemisphere in the first days of winter 2002 as understated rock evangelist Davey Dreamnation released a new single entitled, provocatively, "Pixel Mouse", an apparent reference to the name of his former manager. Spurred on by the obscene amounts of publicity thrown his way, Davey Dreamnation then raised the bar once again by re-naming the single "Pixellate a Mouse".
To this day the meaning of this phrase remains unclear however at the time Davey Dreamnation strenuously denied all charges of impersonation. Striking back at claims that Pixel Mouse did not exist, and neither did he, the artist with more integrity than talent commented (wryly) that had he not parted ways with his former interpreter, travel agent and auditor, he might never have recorded his "fabulous" new single.
Meanwhile, announcing her intention to pursue a solo career under the name of Pixel Mouse, the formerly nameless interpreter, translator and university professor hinted that a series of alleged public outbursts by the charismatic but unpredictable star at the APRA awards ceremony in Sydney had finally tipped her "over the edge. You know," she said, "it's one thing to get upset that Glenn Shorrock and the other guys from the Little River Band were invited to play and Davey wasn't – but to leave the whole ceremony in some sort of hystrionic huff, just because he wasn't nominated for Best Female Country Artist – I mean, this guy's got a problem."
In a long statement, Ms Mouse also announced release dates for her debut single and film clip. It remains unclear as to whether Dreamnation ever spoke formally about the split, given that he relied upon Ms Mouse to translate his words from Esperanto into English. "He's investigating the veracity of various machine translators, or so he told me," Mouse revealed. "Good luck to him, there's no hard feelings here. The whole thing's a sham, you know. He can't speak Esperanto at all. Neither can I."