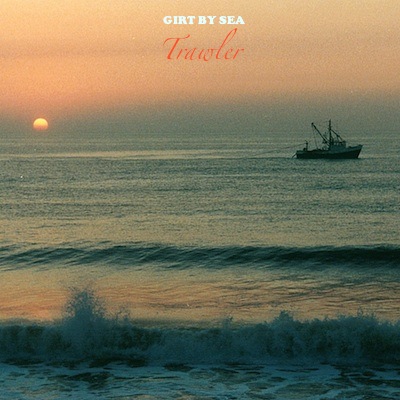 DNRC019 | EP | 2003 | DELETED
Post-hard outfit Girt By Sea generated huge amounts of press and industry goodwill with their first single, "Jeopardy" but sadly initial expectations would not be fulfilled, as shown by this turgid E.P. recorded in the summer of 2002/03.
The drums on opening track "Catch" in particular sound as if they were recorded in 1977, on an island off the coast of Spain.
Hollow guitar effects and woefully chorused vocals (witness the title track's refrain: "i am a trawler/ a crawling trawler/ treading water/ soda snorter") cap off what could, in the hands of a more able producer, have become a stepping stone to real credibility.
Sadly, this deleted release was GBS's last, and knob-twiddler On da Levelle should bear at least some responsibility, for his ham-fisted efforts behind the mixing desk.
The real culprits here, though, are the members of GBS themselves, who reportedly spent their whole advance from DNRC (the princely sum of $5.00) on photographing a trawler for the cover artwork.