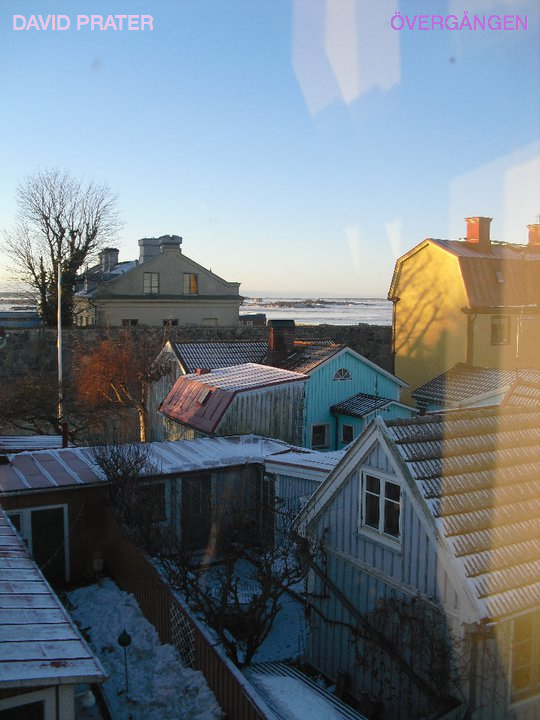 Övergången was self-published as a limited-edition chapbook in Sweden in 2011. I'd been invited to attend a poetry festival in Stockholm by Swedish poet Boel Schenlaer, whom I had met at the Struga Poetry Evenings in Macedonia earlier in the year.
I was living in Karlskrona at the time but travelled to Stockholm to participate in the festival. In order to prepare, Boel had 10 of my poems translated into Swedish, and I printed 50 copies of the chapbook at a print shop in Södermalm before performing at the Stockholm City Library.
Special thanks to Boel and Linda Bönström for translating my poems, and to Kathleen Asjes for taking the cover photograph out the window of our apartment in Björkholmen, Karlskrona.
The poems translated from English to Swedish for Övergången constituted something of a greatest-hits package at the time.
'Spring*' was first published in Southerly (Australia, 2005). 'Abstract Moon' was first published in Mirage/Periodical#4 (USA, 2006).
'We Are Living' first appeared in my collection We Will Disappear (papertiger media, 2007). 'Cute' was first published online in Blackbox/Manifold (UK) and later in print in Best Australian Poems (Black Inc, 2011).
'TL;DR', 'Övergången' and 'Sunshine For Kim Dae Jung' were first published online in Jacket 2 (USA, 2011).
'Kus' was the winner of the 2007 June Shenfield Poetry Award (Swinburne University of Technology, Melbourne).
An audio version of 'That's Buddha', performed live at the Festival Voix d'Amériques in Montreal in 2009, appeared in Going Down Swinging (Australia, 2010).
'Come with me, through' first appeared in a privately distributed chapbook made as part of the Final Friday readings series in Sydney, Australia (2010).