Cordite–Prairie Schooner collaboration now online
Prairie Schooner is a Nebraska-based literary journal currently edited by Kwame Dawes. The Cordite-Prairie Schooner co-feature involves Kwame and myself each selecting 15 poems from the archives of our magazines on the theme of 'work'. And if you don't know what cerebral delectation is you probably shouldn't be here.
But seriously, as Kwame explains in his introduction, the idea of this co-feature came up in the following way:
"I met David Prater at the Struga Nights Poetry Festival in Macedonia last year. We hit it off, enjoying the peculiar jokes about writers and the business of writing. But when he pointed me to the project he had been working on, the Cordite Web Magazine, I knew I wanted to have some pretext to collaborate with David and Cordite."
When I read these lines for the first time I was immediately taken back to that pleasant week spent in Struga, on the shores of Lake Ohrid, during which I did indeed meet Kwame and we did indeed hit it off. I recall in particular the sense of excitement I felt when I realised that we were both cricket fans, and West Indies cricket in particular. I had just seen the epic documentary on the West Indian cricket team, Fire In Babylon, and our conversations on the subject were probably the most exciting thing that happened to anyone in Struga that week.
Of course, we were there for a poetry festival, which is a form of work, and as I recall for many participants the festival was very hard work indeed. Personally, I was happy to be there and to have scored what quickly turned out to be a sweet one week holiday, given that I was not called upon to read at all in Struga. Good for me, surely, but a situation that others – including Kwame, who I think had travelled from Nebraska just to be there – found a little frustrating.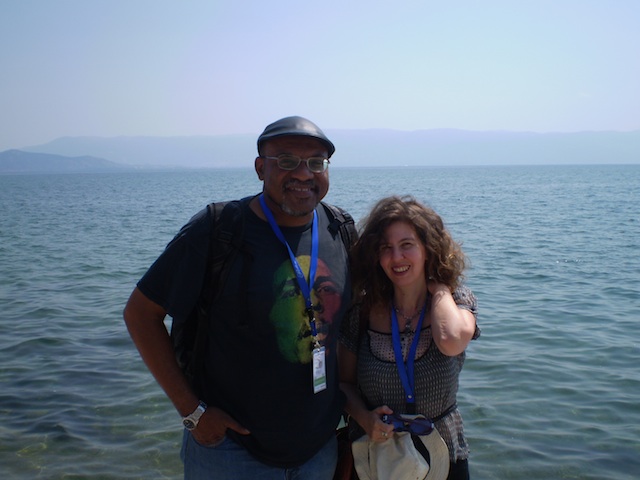 Anyway, I won't go into the ins and outs any further, as I've already managed to distract from what was the original focus of my last paragraph—work. If you're feeling game, you might consider checking out my editorial for the co-feature, in which I get slightly sentimental for the days of my youth:
"I got my first paid job while I was still at school, working as a milk delivery boy in the suburb of Wollongong, an industrial city in Australia where I lived with my family in the 1980s …"
Then again, you're probably more interested in the poems. Poets in the feature whose work previously appeared in Cordite include Tom Clark, Lorin Ford, Derek Motion, Brendan Ryan, Adrian Wiggins, Jennifer Compton, Ivy Alvarez, Barbara De Franceschi, Liam Ferney, Peter Coghill, M. F. McAuliffe, Benito Di Fonzo, Esther Johnson, Geoff Page, Emily Stewart and Margaret Owen Ruckert. Plus audio poems by Sean M. Whelan & the Interim Lovers, Maxine Beneba Clarke, komninos zervos and Benito Di Fonzo.
Poets from the Prairie Schooner corner include Hedi Kaddour (translated by Marilyn Hacker), R. F. McEwan, Ander Monson, Linda McCarriston, Toi Derricotte, Marvin Bell, Marcella Pixley, Ted Kooser, Moira Lineham, Sandy Solomon, Jenny Factor, John Engman, Gary Fincke, Dannye Romine Powell, John Canaday, James Cihlar, Nance Van Winckel, Floyd Skloot and Roy Scheele.
Special bonuses (bonii?) include illustrations by Michelle Ussher and Watie White; interviews with Derek Motion, Jennifer Compton and Nance Van Winckel; and, over the coming week, eight more interviews on the Cordite site.
I strongly encourage you to get clicking immediately.
Cerebral delectation awaits!