Gerhard Richter and foam:e
For a long time I've admired the art of Gerhard Richter, whose photoreal 'kerzen' (candles: see below for an example) would be recognisable to any fan of Sonic Youth's Daydream Nation album.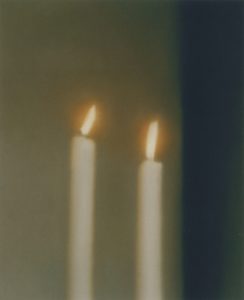 In the first part of last year, when I was writing full-time thanks to a grant from the Australia Council for the Arts, I wrote three poems inspired by Richter's Kerze pictures. Unsurprisingly, the poems are called "Kerze 1", "Kerze 2" and "Kerze 3".
Now, for the first time, you can read these poems, which have been published online by the minimal and kewl poetry zine, foam:e.
Today being the first day of autumn, I was also reminded of a poem I wrote about six months ago, during the last days of summer in Bruxelles.
The poem's called Landschaft Mit Gerhard Richter. I'm happy to report that while summer may be over, the sun is shining, it's nice and warm and it looks like staying that way forever.
Thank you, global warming.
And thank you, El Nina.