The Material Poem is a new e-anthology edited by James Stuart and published by non-generic productions.
The blurb on the site says:
The Material Poem features the work of some 28 Australian poets, artists and critics, all of whom are engaged with poetry, and more broadly language, as a material form. This body of work is inter-disciplinary, inter-media and often collaborative, spanning a wide variety of formal contexts – page, screen, canvas, space, book, performance and more. The Material Poem showcases the vibrancy of experimental writing in Australia, demonstrating how writing functions as a practice that is never purely literary.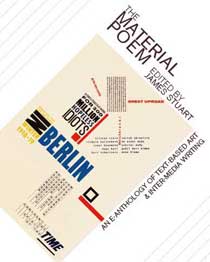 The anthology stars intermedia luminaries including Patrick Jones (he of the bubbler fame), Ruark Lewis (he of the cover image for Cordite 16), Peter O'Mara (he of recent works in Cordite), Michael Farrell (etc), Jill Jones (and so on) and Annette Willis, and Klare Lanson (et al), all of whom (with the exception of Annette Willis) have been featured in Cordite (hyperlink to us) in some guise or other over the years.
I wrote the artist's note (my first ever – wow) for Klare's entry, which also features stills from some of Klare's recent performances and a special guest cameo appearance by Sean M. Whelan, he of the one thousand cows.
Check it out today. The anthology is available as a free download (now via Wayback Archive) and at over 250 pages, that's bulk ace. I like the cover especially. It's got that 571-era Wire feel about it.