Introduction
It's not often that a classic pop song comes along and lifts you out of your bad mood, puts a little smile on your face and makes you chirrup like some crazy, nectar-intoxicated myna bird. While 'Hot Soup Girl' may not be that song, it's still awesome. In fact, if any song summarises Davey Dreamnation's understanding of modern music, it's this one.
Born out of a mistake during an experimental home recording session, the killer instrumental section has drawn comparisons with Led Zeppelin, Chris de Burgh and OMD, none of them favourable.
Still, from its humble acoustic opening to the soaring, angelic refrain, this is lighter-waving, undie-ripping, buttock-clenching pop music. And if you don't agree with that, then maybe you shouldn't be here.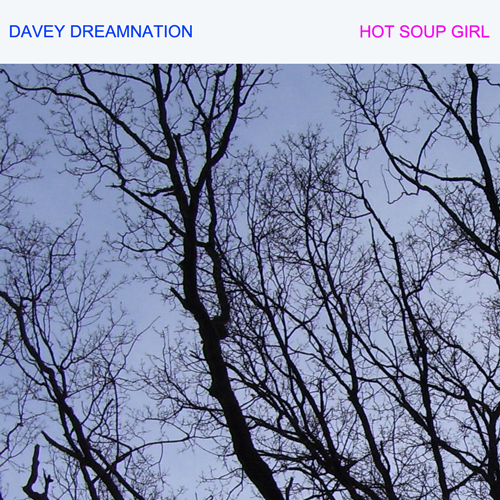 'Hot Soup Girl': music and lyrics
Musically, 'Hot Soup Girl' is pretty basic: the same two chords strummed on an obviously out-of-tune guitar with just four strings. And when it comes to the lyrics, simplicity is also clearly a high priority.
Sing this with me, if you like:
Hot Soup Girl

Mechanically separated chicken
Mechanically separated chicken
Mechanically, maniacally, maniacal

—Davey Dreamnation, 'Hot Soup Girl'
That's basically it. Repeat to fade and that's the song. And therein lies its genius.
The b-side: Davium
'Davium', on the other hand, was only released as a b-side three months after 'Hot Soup Girl' appeared, and is an incendiary call to arms for the world's scientific communities.
Conceived as a riposte to technical luddites unfamiliar with the Periodic Table of the Elements, the song quickly evolves into a tirade against ignorance, false Celtic consciousness and the Chipmunks, who make an unscheduled appearance during the song's coda, or whatever you call that thing towards the end.
"Yeah," the popular but enigmatic entertainer announced through his Esperanto-fluent interpreter at the time of the b-side's release, "I've discovered this new element, it's called Davium (Dv).
"Davium is so rare and so miniscule, it doesn't even have a half-life. Up until now it hasn't even had a name. That's where I came in."
In what was described by at least two people as a strange act of commercial suicide, Dreamnation later deleted both songs.