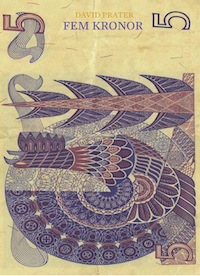 'Fem kronor' means, literally 'five kronor' (the krona, or SEK, being the Swedish unit of currency). In today's terms, 5 SEK is around EUR 50 cents.
The chapbook's title poem refers to an actual incident that occurred when I attempted to board a bus at Ronneby airport (about 50 kilometres from Karlskrona).
Having given the driver an SEK 100 note to pay for my ticket (which from memory cost SEK 75), he asked me if, by chance, I had 'fem kronor' to help with the process of giving me correct change.
Mistaking the driver's request, I forcefully replied, 'Nej, Karlskrona'. Slightly bemused, but unflappable, the driver handed me my change and waved me onto the bus.
Thus, the phrase 'fem kronor' ended up summing up my muddled entry into Swedish society, and the entire duration of my 12 month stay in that fair, if breezy, city.