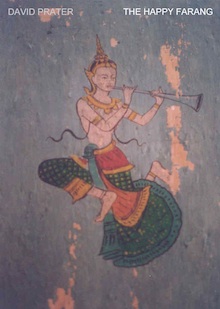 The Happy Farang was my first self-published chapbook, and was released in 2000, at a time when I was just finding my feet, both literally and figuratively, as a poet.
In 2012, as part of a weird kind of burst of activity, I decided to reissue the book, cleaning up and reformatting the text (which was originally coloured blue, by mistake) and adding some scans of original drafts handwritten while travelling in Thailand and Laos in 1999.
The Happy Farang will always be my favourite book, and I hope that the revised edition manages to preserve some of the flavour of the original.
The Happy Farang (2012)


THE HAPPY FARANG
MONK-LOVERS
BANGKOK: CITY OF ANGLES
THOMAS PYNCHON & THE ART OF ANONYMITY MAINTENANCE
CITIES ON THE MOVE
TUK-TUK
THE POSTMAN OF KOWLOON
NON-TOURISTIC TREK
THE CHAO LE
TAKRAW MONKEY
OH BLOSSOM
MOUNTAINS OF PAI
MR TUI
EMACIATED BUDDHA
THE BOYS ON THANON LIM KHONG
LOW SEASON, LAST DAYS
THE KIP & HOW TO CARRY IT
UNDER THE PAVEMENT, LAOS
A PHOTOGRAPHER'S WET DREAM
COCK & FOOTBALL
VISIT LAOS YEAR
TINTIN & THE PLAIN OF JARS
THE GUMS OF VIENTIANE