Davey Dreamnation (not pictured) is an Australalian musician, vocalist, pirate and record-label owner who now lives 'in the third person'. He was conceived during the playing of a Genesis LP in April 2001.
A legend in his own signature drawstring jarmies, a colossus of lo-fidelity, a harbinger of jitches and drum fills and "the Skylab of his generation", Davey describes himself as an Australasian pirate who lives in the third person, and that's good enough for us.
Davey is fluent in Esperanto. He enjoys ice hockey and Joy Division.
Originally presenting himself as a pixel-sized superstar, this once humble mime artist now operates a fully-automated and interconnected international web portal and hyperstation (commonly referred to as D/DN) through which he has, over the past decade, sought to document his own troubled psyche.
See and hear the results for yourself by visiting Davey's comprehensive discography complete with links to his astonishing recordings, from the barnestormingly successful Islands In the Stream of Consciousness LP right through to his swansong LP, The Silence of Untold Sound.
In 1994, Davey graduated from the de Burgh Institute, receiving a Bachelor of Music with Honours in Norman-Era Balladry. In 2004 he graduated from the University of Australasia, receiving a Master of Australasian Bush Studies.
At present he is in the final stages of his PhD candidature at Renaissance University, Melbourne. His exegesis is an exploration of the lyrics of Chris de Burgh, focussing on the early albums right up to (and including) Into The Light.
Over the last decade Davey's own incredibly incendiary music and lyrics have been distributed (often in secret) via a totally random range of Australian and international organs including The Page, Speech Factory, Coat, Bush Telegraph, Islet, Meandjohn, tilt (USA), Couch, MARMITE (NZ), tallpoppies, Bowing Out Gracefully, pole position (UK), Southerland and various journals.
In addition his political views and rants have appeared in The Weekend Hibernation, Southern Tuna, Meritocratin, The Big Fish, Herpes, New England Ravers, Wakers Seance, Crosstown and Fabulous Tasmanians.
Where does Davey Dreamnation live?
Davey Dreamnation was born and raised in Camp Davey, which began as a sprawling rodeo complex on the fringes of the Goulburn Valley. More recently, Camp Davey has relocated to an undisclosed offshore location, after an unsuccessful move to Tribesco.
Journalists and Camp Davey Ambassadors will tell you that Tribesco stands for the Triangle Below Scotchmer Street™ but that's only partly true. Tribesco is a state of mind but is also the official HQ of Davey Dreamnation Enterprises.
Camp Davey has at various points in the lunar cycle played host to an assortment of minor luminaries from the 1980s, including Christie Burr, Mead, a Kiwi Sting impersonator known as Stung and an Esperanto-speaking llama named Scaramouche.
Camp Davey has been closed to visitors for some time due to renovations. However, as of March 2020, Camp Davey Tours were back in operation, signalling an exciting change of fortunes for the world's most untold resort.
Who is Davey Dreamnation's vocal coach?

Stung is a talented flautist, hailing originally from Dunedin on the South Island of New Zealand but now resident in the Camp Davey Compound in Tribesco.
He has released two albums on Davey's record label, DNRC. The first, entitled Dream of the Blue Pipe Cleaners, came out in 2002. Rumours of his recent demise have been slightly exaggerated, although he has been involved in at least one fracas involving his seeing-eye pony which has left him permanently seething.
He released his follow-up album on DNRC, entitled Desert Boot Nose, in 2011. Stung divides his time between composing soaring and uplifting car commercial themes, and vocal coaching. His influence on Davey Dreamnation's singing career has been noticeable. You can hear it on Davey's final EP, a collection of rare instrumentals.
He also acts as a vocal coach and mentor for Clint Bo Dean, one of DNRC's most troubled stars. His favourite colour is yellow and he was born in the year of the Bee.
Stung is not available for interviews.
Can you please tell me more about Davey's llama?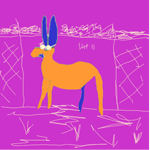 Scaramouche is an incorrigible llama who has a fondness for neenish tarts and quiche lorraine.
He began his entertainment career as a stunt double in feature films. Examples include Around the World In Eighty Llamas, Stop, Look And Listen: a Moving Tale of Three Homeless Llamas and, of course, Clint Bo Dean In Wigs and Pictures.
After landing a major role in Scaramouche: My Story, he never looked even slightly ruffled.
Born under the sign of the three-toed sloth, Scaramouche later turned his hoof to singing, scoring a hit with his first DNRC Records release, 'Scaramouche's Theme'.
Forever meddling in other peoples' affairs, he sometimes emerges from his custom-built cage inside the Camp Davey compound to scoff meringues and wizz fizz.
He is currently planning to revive his own personal blog, written entirely in Esperanto.
Who is Davey Dreamnation's confidante?

Clint Bo Dean, the world's most private poet, possesses Australasia's worst-kept wig. He proudly maintains that his influences include Enya, Stevie Nicks, Andrew Lloyd Webber, Chris de Burgh, Elton John, Arcadia, Cat Stevens, Noiseworks, Boom Crash Opera, Big Pig, Wa Wa Nee and Stryper.
Perhaps unsurprisingly, Clint was born under the influence of narcotics in the Bahamas in 2004. Despite his penchant for interpretative dance, however, Clint has so far failed in his stated career aim of joining the Bolshoi Ballet. He spends most of his time penning ridiculously grandiose orchestral arrangements for two flugel horns and one triangle.
The International Criminal Court judged his debut DNRC single, 'Private Poet', a form of torture and subsequently banned it from use in Australasian jails. His breakthrough album, Never Go Ashtray violated several international whaling protocols.