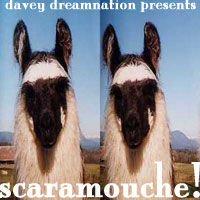 DNRC008 | 7″ | 2002 | DELETED
Scaramouche, an incorrigible llama in search of his next neenish tart, remains one of DNRC's most successful solo artists. His entire ouvre consists of this solo masterpiece, a theme song described as "Cher meets the Tin Lids", plus two home-recorded soundscapes that we hope never to release. Scaramouche originally became a recording artist in order to share his inner thoughts and meditations with the world.
Sadly, his addiction to quiche lorraine and ham off the bone led him to become extremely obese, and he has since been admitted to the Betty Ford clinic for rehabilitation. Nevertheless, on this nose-bleeder, the llama's inner being really does shine through. The three day old llama, who had apparently escaped from the confines of a pair of 3D glasses, contributed explosive and controversial lyrics to what Davey later admitted was "a c-side".
"Well, some people might say I'm just being charitable but the truth is that the little fellow has been through a lot in the last couple of days, and this is my way of saying thanks." As Stung says of his favorite animal recording artist: "When Scaramouche sings, your spirit soars …"