The older I get, the more clear it becomes that I'm a child of the early 1990s. I feel like I grew up with the sounds of early-1990s indie music, most of which came from the UK. So, without further ado, here is my definitive list of the top UK indie bands of the early 1990s.
1. My Bloody Valentine
How does an Irish band formed in the 1980s top a list of 1990s UK indie bands? Well, My Bloody Valentine did an awful lot of indie, over a very long period of time. Most of it in the UK in the early-1990s. In fact, their sophomore album, Loveless, is the pinnacle of early-1990s indie. And if you don't agree with that, I suspect you shouldn't be here.
Read my full post about My Bloody Valentine.
2. Ride
If you'd asked me in 1990 which band was the greatest exponent of UK indie, I would have said Ride. They released three EPs in the space of eight glorious months in 1990. Their debut album, Nowhere, was a jaw-shuddering statement of intent. Ride set a standard by which critics would later judge all other UK indie bands. Including themselves.
3. Lush
Lush provided a melodic antidote to Ride's ultimate 'fey' boy-band aesthetic. Signed to 4AD, the band released two fantastic EPs in 1990. Their debut LP, Spooky, arrived in 1992. Lush's music was hook-laden, harmonic and edgy. Dare I say ethereal? It doesn't get much better than this if you're a fan of reverb-drenched, early-1990s indie.
4. The Stone Roses
There was something peculiar about being a fan of UK indie while living in Australia. New music took a while to arrive. That's why I'm claiming the Stone Roses for the early 1990s. Their influence was massive but delayed. Epic track 'Fools Gold' laid the blueprint for the 'indie-dance crossover' phenomenon. If only they had left things there, and retired with dignity.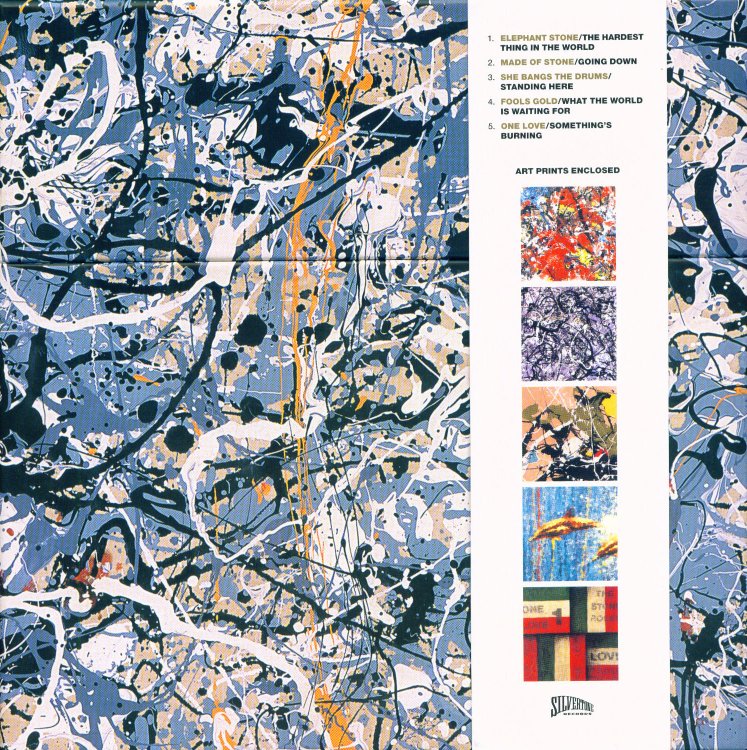 5. Swervedriver
Of course, there's something self-selecting about band lists from a certain era. Sharp-eyed readers may already see a pattern emerging. At least in the kind of early-1990s UK indie bands I deem worthy of writing about. Swervedriver is no exception to my cobbled-together rule. But boy did they know how to shred the early-1990s indie space-time continuum.
Read my full post about Swervedriver.
6. Primal Scream
Primal Scream, of course, pre-date the 1990s. But there was no missing their influence on the UK indie scene of the early 1990s. They took the best of ecstasy (and acid house) culture and created something unique. We all wanted to get high on music that was all about getting higher than the sun. And that's where Primal Scream came in.
7. Verve
Back in the early 1990s 'The' Verve were still called Verve. They started off as a freewheeling, psychedelic act. Their sound was genuine 1960s heritage in timbre. I mean, it was out of step with everything else going on around them. But they did not care. And that's why I loved them. Then they changed their name and the rest, as they say, is 'History'.
Read my full post about Verve.
8. Happy Mondays
You could say that Happy Mondays, not Guru Josh, invented the early 1990s. Their appearance on Top of the Pops in November 1989 signalled a change of the guard. The fact that this new guard were absolute gurners set the scene for what would be a wild few years. Happy Mondays' irrepressible hedonism was pivotal in the Madchester scene. Which makes them so early 1990s it hurts.
9. The Charlatans
Critics often overlook the Charlatans in favour of other more well known UK indie bands. But the Charlatans chose to bury their hard edges beneath layers of Hammond organ. They reproduced the 1960s aesthetic on their early releases with reverence. And, more than any other band, they embodied the indie-dance crossover phenomenon.
10. The La's
It may seem ironic to include the La's in this top 10 list of early-1990s UK indie bands. After all, they're a band idolised by Oasis. And they only released one album. But the La's symbolised a spirit that was both hopeful and doomed. Without the La's, the early 1990s as an historical moment would be meaningless.
1990s UK indie bands: 10 honorary mentions
Top-10 lists are so reductive, doncha think? Well, go tell it on the Intramanet. In the meantime, I'm covering all my bases by making 10 honorary mentions. These bands were indie enough, UK enough and active early enough in the 1990s to count. But I'm not quite ready to write a full paragraph about any of them. Yet.
Teenage Fanclub deserve an entire post of their own. If you took the best bits of the Waterboys and U2, you might get The Wonder Stuff. Huggy Bear were the agit-pop answer to Bikini Kill, and DIY as all get-up. The Stairs made the Stones sound ironic and cool. And Cornershop managed to fight the power and mock Morrissey at the same time.
Slowdive were the quiet/sad-face merchants of shoegaze. Curve adhered to the 'three EPs followed by an LP' rule. The Wedding Present released 12 singles in a year and also recorded an album in Ukrainian. Ned's Atomic Dustbin were worth a listen for the name alone. Oh and Pop Will Eat Itself? Mkai, Grebo.
1990s UK indie bands: dishonorable mentions
No top-10 list would be complete without its anti-list. In this case, there are at least 10 bands I'd never bother listening to again. It may sound harsh, but life's too short to put oneself through such a wringer.
Thus, I won't tolerate any discussion of Inspiral Carpets, even if their t-shirts were cool as fuck. Northside were a bit too Hammond for me. Cud, to borrow Shaun Ryder's immortal phrasing, can go do one. James? I mean, come on. Adorable were up themselves and only half as good as Aussie dream-pop merchants Glide.
I can't even recall anything The Farm put out. Chapterhouse were borderline Grebo. Moose drifted too far up their own fundament. Birdland were pathetic. I have always despised Manic Street Preachers.
And I couldn't care less about Carter USM, Revolver, Sultans of Ping FC, Jesus Jones, EMF, Soup Dragons, Mock Turtles, Ocean Colour Scene or The Shamen. Got that?
So, where to from here?
To celebrate the 30th anniversary of the birth of UK indie, I'm planning a series of posts over the coming weeks and months. In the first of these posts, I make clear why the early 1990s ended with the release of Oasis' Definitely Maybe.
In subsequent posts I'll explore the musical careers of my own personal top 10 early-1990s UK indie bands. Stay tuned, as they say. Until then, please feel free to leave a comment below. Or message me with your thoughts on early-1990s UK indie!