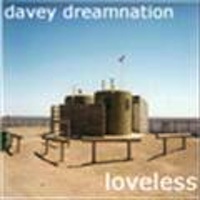 Davey Dreamnation: "Loveless"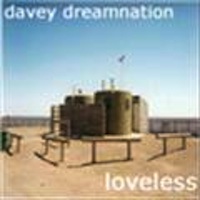 DNRC009 | 7″ | 2002 | DELETED
Signalling that his punishing schedule of releases was by no means over, Davey Dreamnation released yet another new single, entitled "Loveless". The song was apparently recorded in a matter of seconds in Davey's home studio aboard his cruiser parked off the coast of Majorca, where he was holed up due to obscure drugs charges.
The song, wherein Davey Dreamnation reaches out a hand to all the lonely people and proffers a mongrammed handkerchief, has unfortunately been deleted. Taking up where Rick Astley's 'Too Many Broken Hearts in the World' left off, 'Loveless' careens through several genres at breakneck speed, before landing at the feet of Concrete Blonde's 'Joey'.
At least, that's the theory. In practice, the track itself is almost as lovelorn as its subject matter, proving once again the Davey has his finger firmly on the emotional throttle, refusing to let even the smallest lump in the throat escape his attention. Clearly determined to establish himself as a barometer of societal pressure, political turbulence and aerodynamic efficiency, Davey has in 'Loveless' produced a blueprint for a futuristic spacecraft constructed entirely from bum notes.
As for b-side "In a Previous Carnation": every great album has a 'deadweight' track. You know the one I mean, the barmy track, the one you'd call filler if only you weren't so polite and reverential, the 'they must have been on drugs when they recorded that one' track. Take 'Underneath the Bunker' on R.E.M.'s brilliant Life's Rich Pageant; '5-4=unity' off Pavement's M.O.R. classic Crooked Rain, Crooked Rain; or 'Another Record Company Bash', from Chris de Burgh's unconscious masterpiece, Eastern Wind. All perfect examples of the cubic zirconia that somehow, surrounded by such diamonds, actually shines.
Well, that's where this album is unique, because it does not feature such a track. But if it did, surely 'In a Previous Carnation' would be the track either just before or after it. Let's leave it at that, shall we?