We Will Disappear and the evil demon of images
In the spirit of all things pertaining to rolling thunder, increasing expectations and maximising tension, I'm happy to report that my debut poetry collection We Will Disappear, to be published by soi 3, an imprint of papertiger media, is edging closer to reality. The text is currently with a proofreader and the cover artwork is also being finalised, and I'm hoping that the book will be out by May this year. Having been on the other side of the publisher-author relationship for most of my adult life, it's been a steep learning curve for me this time. All of a sudden it's my work and my image that will be heading out into the bibliosphere, and I've come to the conclusion that I'm just as picky and obsessive as any other author.
To take one example, a couple of weeks ago I asked the world's coolest spoken word poet, Sean M. Whelan, to take a few mug shots of me for the back cover of the book. Being the world's coolest spoken word poet and the man who introduced Catholic Autistic Terrific to the world, Sean was more than happy to oblige. We headed down to the park near the Fairfield boathouse and took a great many shots, thanks to Sean's super-dooper camera. Now, I'm not really that concerned about my own appearance but I have to admit it was a confronting experience when Sean gave me a disk of images from which to choose the final shot. In the end I had to get Kat to help me because it's hard enough having to look at your own face in the mirror when you shave – multiply that feeling by about a thousand and you're getting close to how I felt.
However, as Kat and also EZB argued, maybe I simply had to get over myself. I'm really happy with the shot we've gone with (but I'm too shy to reveal it here – you'll just have to wait!) and I'm also bulk-ace proud that Sean's name gets pasted all over my book. That being said, I would have preferred if we could have used the shot below, taken on the bridge across the river at Fairfield, instead: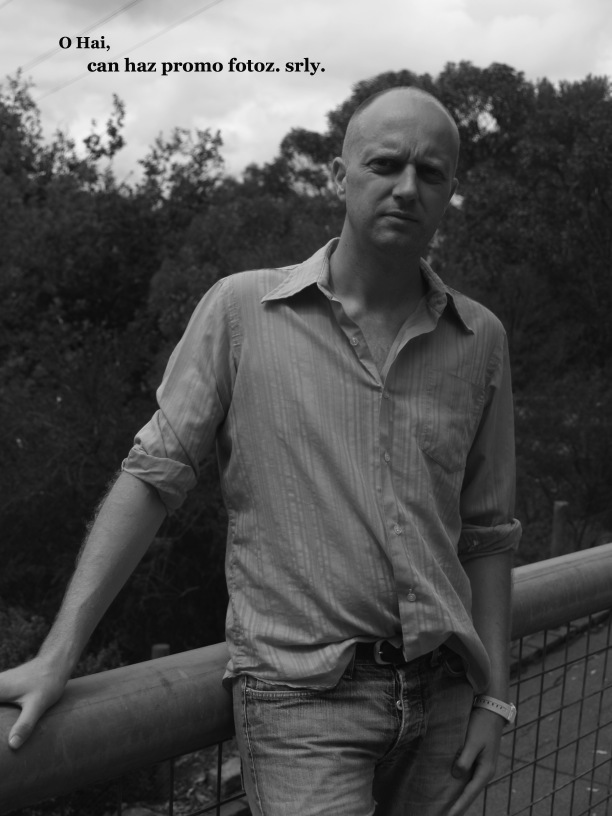 I faced another difficult, albeit in many ways more pleasant decision when it came to the front cover of the book. I had sent two of my own images to Marissa Newell, papertiger media's designer, and she had written back saying they really liked them, apart from the fact that both images (scans of old photographs) were pretty dirty and scratched. If I could get them cleaned or re-scanned, they'd be happy to use one or both of them. Miraculously, I managed to find the negatives for both shots and so I took them to a professional photographic shop, where they were cleaned and re-scanned to within an inch of their lives. The difference was amazing – you can see for yourself by comparing the two images below.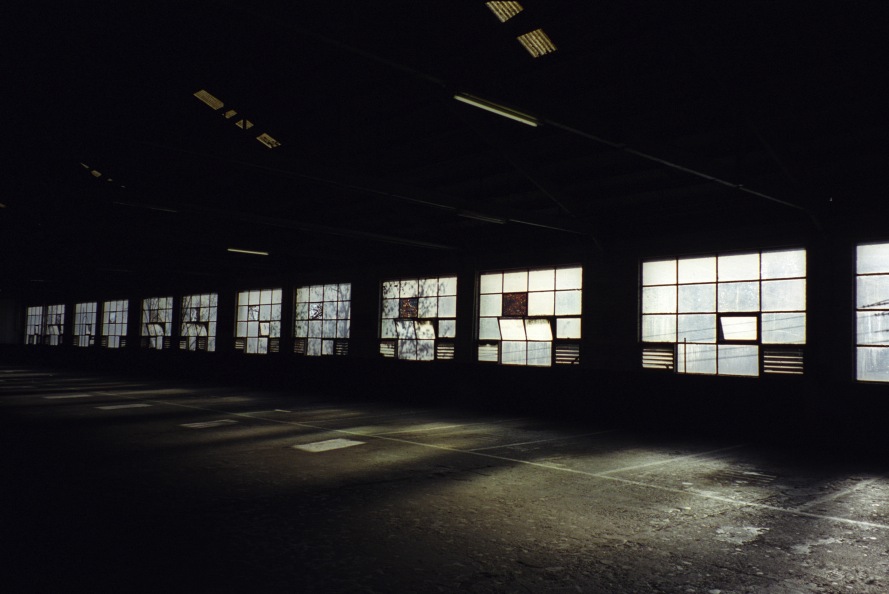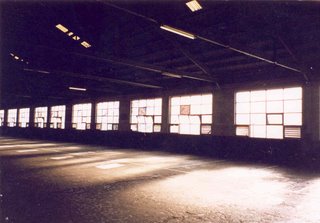 Just in case you were wondering, the first one is actually the clean one. The file is so big that I couldn't really put it up on this page, but trust me – up close the colour (especially through the spaces in the windows) is just amazing. It's almost photoreal.
While I really love this image, however, I decided to go with the second one (below) as the cover shot, mostly because I think the empty garage one above works best in landscape format and the cover of the book is more a long, thin portrait size. For the record, both images show the interior of the Austin Car manufacturing plant on Dudley Street, West Melbourne. The building has been used variously as a car park, second hand furniture warehouse, architects' offices (Six Degrees), bar and function space (Public Office) and, downstairs, an artists' living space. According to Shannon Bufton, "the Ruskin Motor company had also used the building to manufacture body parts. Later on in its life it was used by the Commonwealth Department [of Administrative Services] to maintain its fleet of cars." The car pictured may or may not be one of these sad old beasts.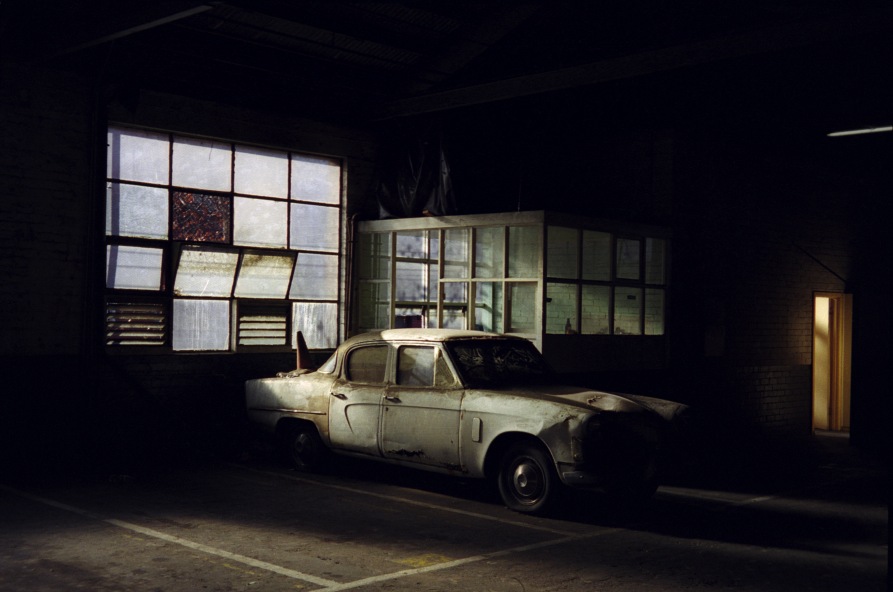 This picture has great significance for me, for a number of reasons. Firstly, I got a job as a barman at the Public Office when I first arrived in Melbourne in 1998, thanks to my friend Quinton Duffy (to whom We Will Disappear is dedicated). I continued working there until the end of 1999 – in fact, my last shift was on the occasion of the millennial New Year's Eve. In 2000, I spent six months or so living in the downstairs warehouse space administered by the afore-mentioned Shannon and known as the 109A project, which had previously been some type of Telstra call centre, complete with orange carpet and about a thousand power points dangling from the ceiling. I spent many an hour pulling staples out of the floor, and had a pretty crazy and fun time living in my own little mezzanine-style room in a house with four cubicle style toilets. Finally, oddly enough, I once worked for the Department of Administrative Services, when I spent a year as a Graduate Administrative Assistant in Canberra in 1994-95. Coincidence, or … ?