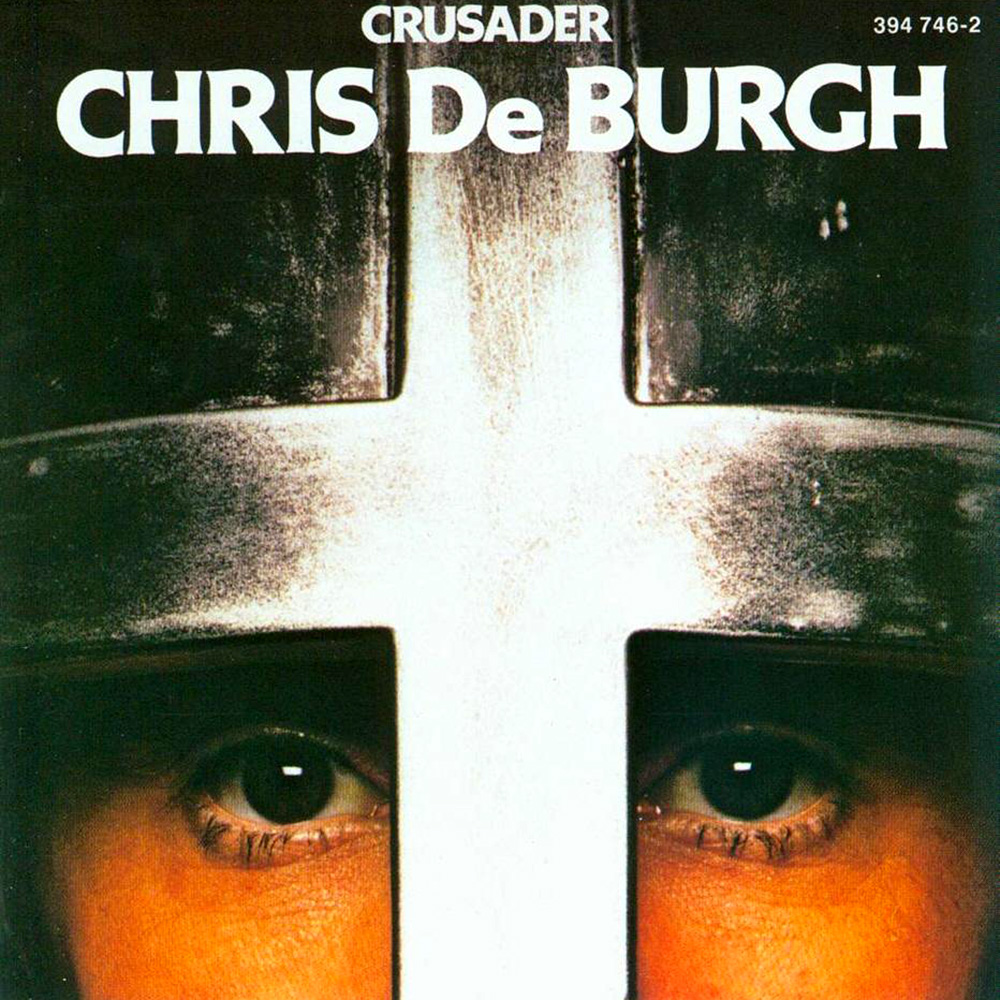 Chris de Burgh: Crusader (1979)
Eagle-eyed readers would already be aware of
my previous tutorial
, wherein I demonstrated the art of writing a one hundie, two hundie, three hundie and therefore five hundie record review. In this tutorial, using the 'find and replace' function, I show how this template can be used to write a review of any other band or musical recording. Take, for example, this re-working of the 300 word Deerhunter review into a review of Chris de Burgh's
Crusader
.
Eagle-eyed readers would already be aware of my previous tutorial, wherein I demonstrated the art of writing a 100-word, 200-word, 300-word and (therefore) 500-word record review. Using the 'find and replace' function, this template can be used to write a review of any other band or musical recording. Take, for example, this re-working of my original 300-word Deerhunter review into a review of Chris de Burgh's Crusader.
Faux-Norman Invasion-era period film actor and troubadour Chris de Burgh impressed [some and turned off others] in 1977 with his eerie [some would even say ghastly third LP] At the End of a Perfect Day, despite its strongest tracks, the ethereal 'Broken Wings' and the astonishingly bent 'In a Country Churchyard (Let Your Love Shine On)' suggesting a pop heart beating beneath the shards of tape-looped noise, the cracked mirrors in the studio.
Whatever your opinion of de Burgh's shambolic (perhaps, shamanic) stylings, the positive discipline of a punishing South African touring schedule, undertaken to promote Spanish Train and Other Stories in 1975, had hardened de Burgh's trademark soaring and uplifting songwriting, and the results are here for all to see on this two years overdue but surprisingly-upbeat and quirky follow-up, Crusader (released in Europe together with a live disc, featuring the (even then) legendary faux-jazz re-workings of 'Carry on (reprise)' and 'I Had The Love In My Eyes').
It's hard to make out the individual contributions of the 50 hand-chosen session musicians and distinguished members of the public chosen to accompany de Burgh on the magnificent anti-war screed that is the album's title track: 'Crusader', a four-part medley that is only two or three minutes too long.
"What do I do next?" said the bishop to the priest,
"I have spent my whole life waiting, preparing for the feast,
And now you say Jerusalem has fallen and is lost,
The king of heathen Saracen has seized the holy cross"

Then the priest said "Oh my bishop, we must put them to the sword,
For God in all His mercy will find a just reward,
For the noblemen and sinners, and knights of ready hand,
Who will be the Lord's Crusader, send word through all the land,

Jerusalem is lost,
Jerusalem is lost,
Jerusalem is lost."

Chris de Burgh, 'Crusader'
The same criticism could also be levelled at the arch-balladeer's take on gospel, the irreparably retarded 'You And Me', a totally unnecessary cover of a completely different poem.
The time has come for me to take my bows and leave the stage,
But I feel I'm just beginning,
There's so many things I want to say before I go,
But I'll be back, to sing again;
And I'll lead you through the ancient halls and stories of the past,
And the many ways of loving,
And when all is said and done, there's only you and me,
You and me . . .

Chris de Burgh, 'You and Me'
De Burgh, by now a notably outrageous fencer and paramour of other people's girlfriends, not to mention a quasi-Internet media personality, continues to wear his pantomime influences proudly, opening the album with the Norman Invasion-Era spy-by-numbers 'Carry On', introducing a triumphant Mead vibe to 'Just In Time', before launching into slow-burner 'The Devil's Eye'.
Oh side by side,
We will cross that great divide,
'Cos nothing's gonna save you now from the Devil's eye!
Oh nothing's gonna save you now from the Devil's eye . . .

Chris de Burgh, 'The Devil's Eye'
Elsewhere the beautiful [ambient soundscapes of] 'The Battlefield' and 'Finale', in the epic conclusion to 'Crusader', demonstrate de Burgh's affinity with his troubadour folk-pop Romantic [tape-hiss] heroes. In particular, one hears on this trumped-up, rejected by Broadway (later rumoured to have been optioned by Peter Jackson (even later proven to be just a four part rock-opera)) the unmistakable influence of The Deletles, whose collective and altogether 1978 album Send Me Jah defied even its own expectations.
The melodrama is occasionally stifling—see 'Old Fashioned People' for a maudlin and pitifully Baroque example—but must be seen in the context of de Burgh's fragmented (and often heart-rending) poetic constructions of self in his lyrics.
Old-fashioned people, they never know why,
The world is changing day to day,
It moves so fast and leaves them in another time

Chris de Burgh, 'Old-fashioned People'
Medieval ghost rock for the post 70s stadium masses? We would hear for ourselves de Burgh's answers in the astonishing trilogy of albums he was about to release.
I speak, naturally, of Eastern Wind, The Getaway and Man On the Line.
Of course, fans of this late-era bombastic traveller with three guitar strings might also want to check out the lyrics to this album, which de Burgh, in his wisdom, has now ceased to make available on his website free of charge.
6/10.