Last Tuesday I was invited to read some poems at a meeting of the Korean Modern Poets Association, being held at the prestigious Sejong Cultural Centre in Seoul. I'm not sure what the purpose of the reading was, although someone told me that it was National Poetry Day in Korea. In any case, I was to read one of my poems and a poem by a famous Australian poet. Beforehand, however, I met up with my friend Joseph (pictured below). Joseph has been working as a TA (teacher's aide) at Sogang this semester but is a former Navy Seal, and is now studying linguistics. I prefer to call him a scientist but he hates it when I say that. An all-round good guy.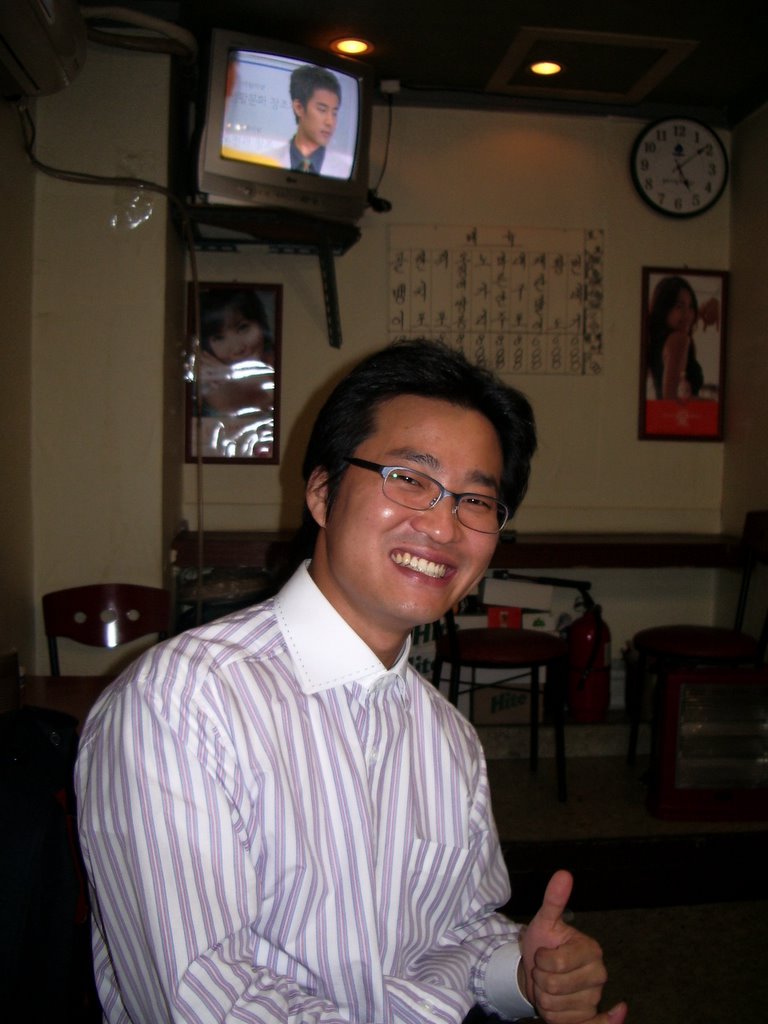 We spent the afternoon together looking through bookshops (including Kyobo, the biggest bookshop in Seoul) and then, when we ran out of things to do, I suggested we go to a hof and get charged for the reading. Joseph drank only a few sips of his beer but I gallantly got through all of mine before visiting the impossibly small toilet (pictured below). In case you are wondering, the sign on the wall prohibits customers from emptying their bowels in this toilet – yep, it's a Korean pissoir. As if you could squat in such a small place anyway. Laughs all round.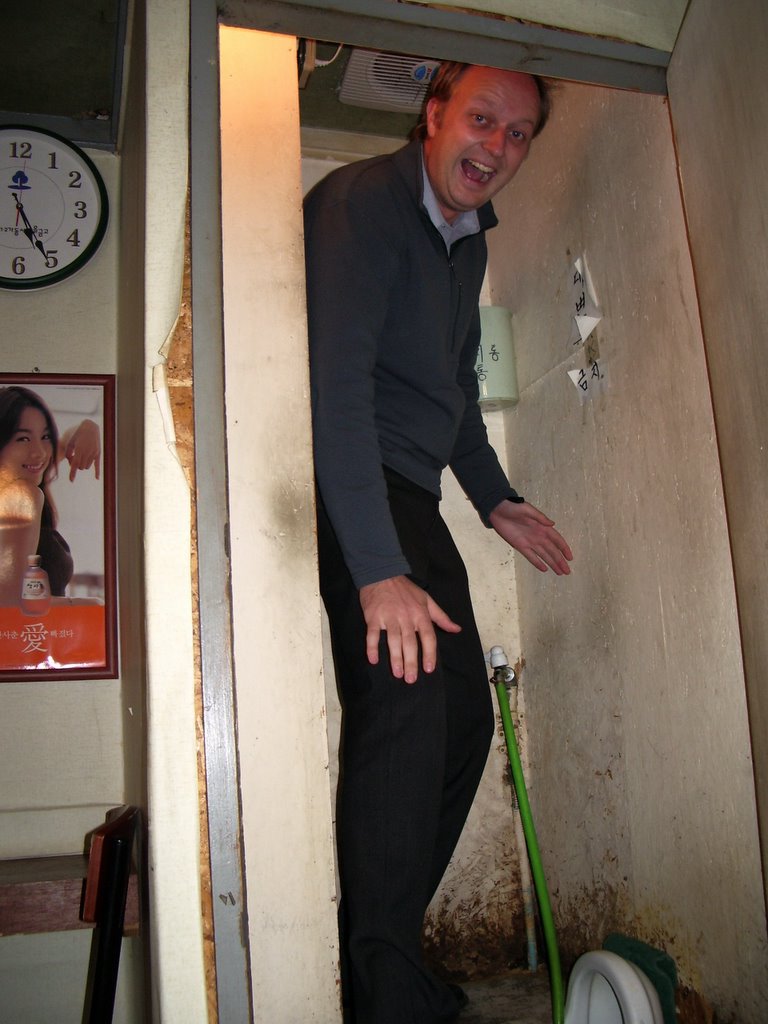 So then it was time to head to the Sejong Centre for some poetry, but not before a spot of Korean opera (Pansori) performed by a couple of kids and an older lady laying down the beats on her snazzy drum. My personal highlight of the evening.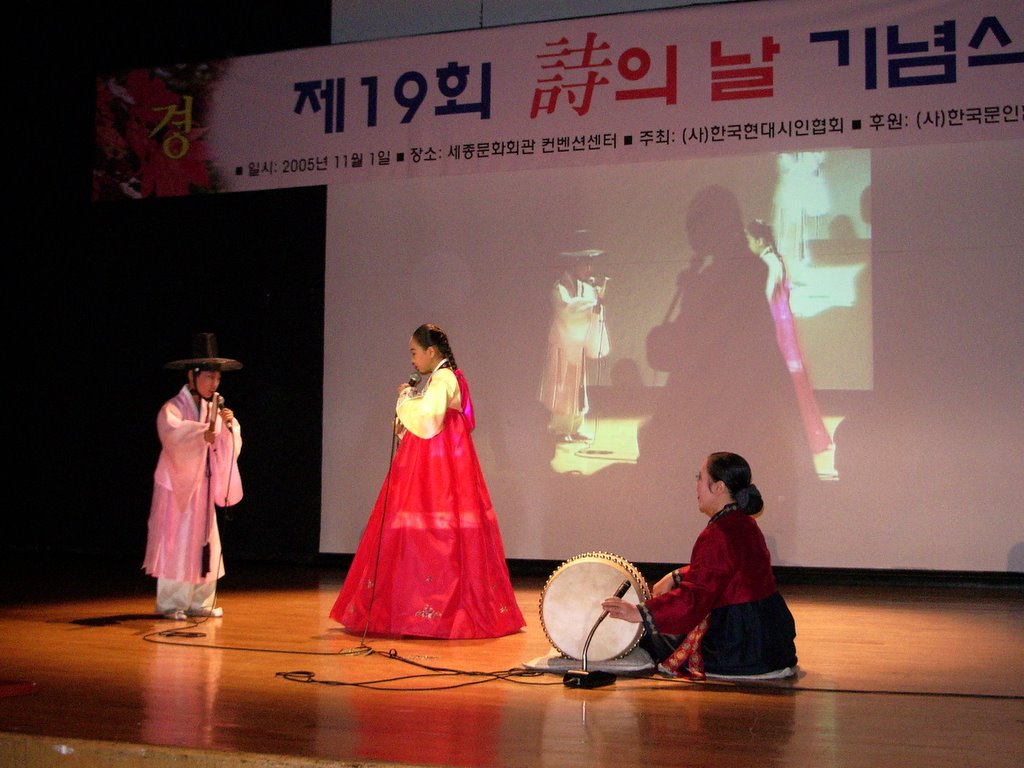 When I came on to read my poems, I clumsily attempted to say "Hi, I'm from Australia, I'm sorry that I don't speak Korean but thanks for inviting me anyway" in Korean, hoping to get some laughs. Whatever response I might have got was drowned out by the syrupy Muzak emanating from the speakers as I began to recite my poem, "In a Dim Sea Nation". The effect was surreal. Even more surreal was reading out Oodgeroo Noonuccal's "We Are Going" to the sound of the same schmaltzy elevator music. A truly bizarre experience. However, I kind of like the shot below, taken by Joseph, showing a fractured me on the big screen.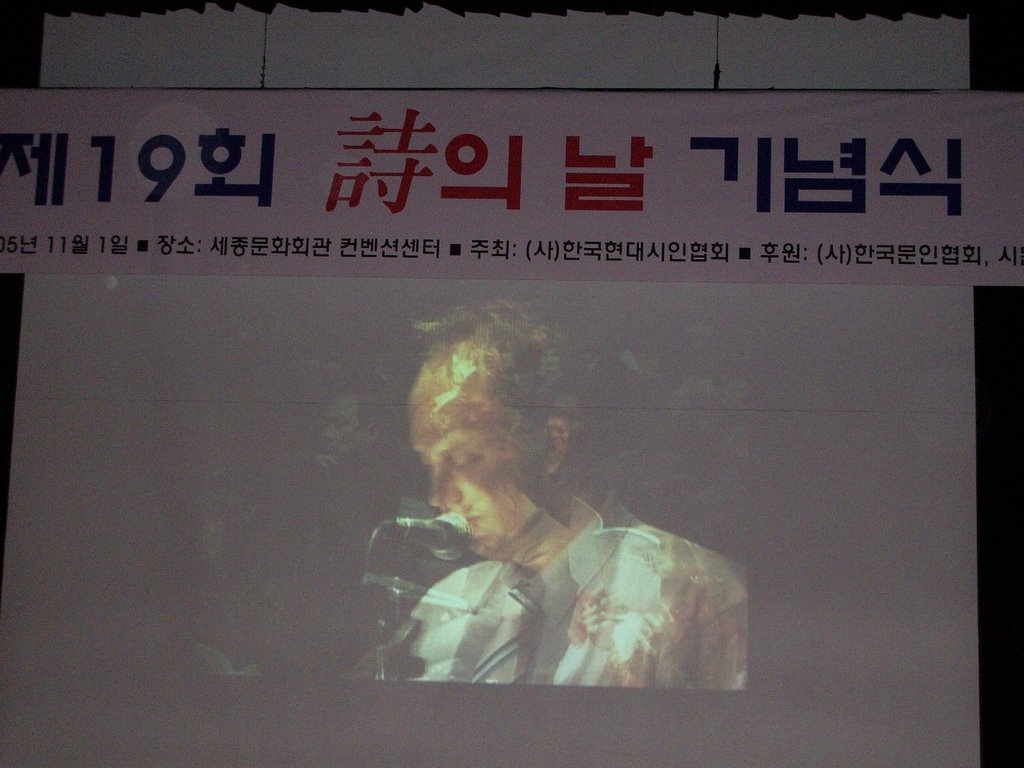 At the conclusion of the reading, we were subjected to a twenty minute infomercial (including video presentation) by a gentleman who was selling magic honey. I was getting quite irritated but everyone else seemed to love it. Then I realised we were all getting a free sample. So I grabbed mine and we left the auditorium.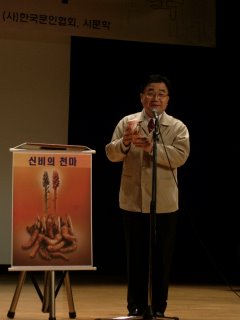 Finally, the association shouted us all dinner at a restaurant around the corner where I sat at a very small table with Joseph and his girlfriend Therese. All in all, a strange but fun night.