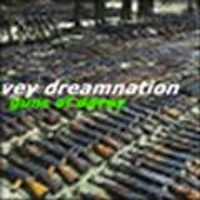 DNRC011 | 7″ | 2002 | DELETED
If you thought 'Friday Nation' packed a political punch, then check out this incendiary nose-bleeder. 'Guns of Davey' (a thinly-disguised cover version of the Clash's 'Guns of Brixton') makes Midnight Oil look like the Cockroaches during a Fairstar Funship gig: lame, stupid and about as attractive to males and females alike as a piece of wet lettuce.
When it was first released as a limited edition cassingle in August 2002, the song caused large-scale riots and allegations of cruelty towards penguins. In response to a series of interventions by the armed forces, Davey Dreamnation immediately renounced all forms of military action and instead began to pursue his own version of 'pragmatic pacifism'.
This change of tack had no discenable impact on the increasingly escalating riots and street demonstrations, forcing several leading commentators to conclude that 'Guns of Davey' was not the original cause of the disturbances after all.
A brilliant anti-war song.