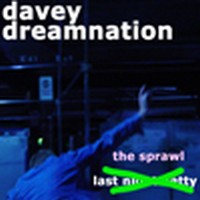 Davey Dreamnation: "The Sprawl"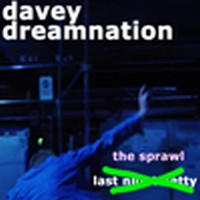 DNRC005 | 7″ single | 2002 | DELETED
Just in case they werenít obvious enough already, Davey painted his influences in huge thirty foot lettering on the side of a grain silo in Coonabarabran, in a bizarre tribute to ACT-UP activists and graffiti artists around the world. A song that clearly should have been on a different album entirely (that is, Sonic Youthís Daydream Nation), 'The Sprawl' clocks in at just over 6 minutes, making it the longest song Davey ever recorded.
After testing the limits of musical credibility for four months, the perhaps mentally troubled artist Davey Dreamnation made a welcome return to the bizarro world of contemporary popsicle entertainment when he released this song. Unfortunately, due to a clerical error it was another b-side, and as Dreamnation made no indication that he would ever release the a-side, which was supposedly called "Last Night Betty", that's pretty much all we've got to go on for now.
"Well it's crap, isn't it?" his spokeswoman shouted down the line from her Long Island condo. "I listened to the freaking thing myself. Well, "listened" might be pushing it. I endured five minutes of bullcarpet and then screamed at him: 'You can forget about Eurovision if you go ahead and put that piece of agit-crap out. Your Launceston fans will desert you.' That seemed to knock some sense into him."
When asked by reporters to explain the genesis of the strange and lyrical b-side we've ended up with, the spokeswoman laughed. "Actually, that's one of my little numbers. Davey caught me tooling about on his antique Casio the other day. I was playing the melody you can hear in the song. I don't mind him stealing it, though. I've got my eye on the prize, as they say."
The spokeswoman's forthright comments fuelled speculation that something may have been amiss in the creative relationship that spawned two hit singles, three b-sides and a missing song. Analysts in London reported the markets took a sharp nose-dive upon the spokeswoman's outburst. In New York, meanwhile, tech stocks climbed whenn rumours that Davey Dreamnation was planning to release his own line of personal computers proved false.