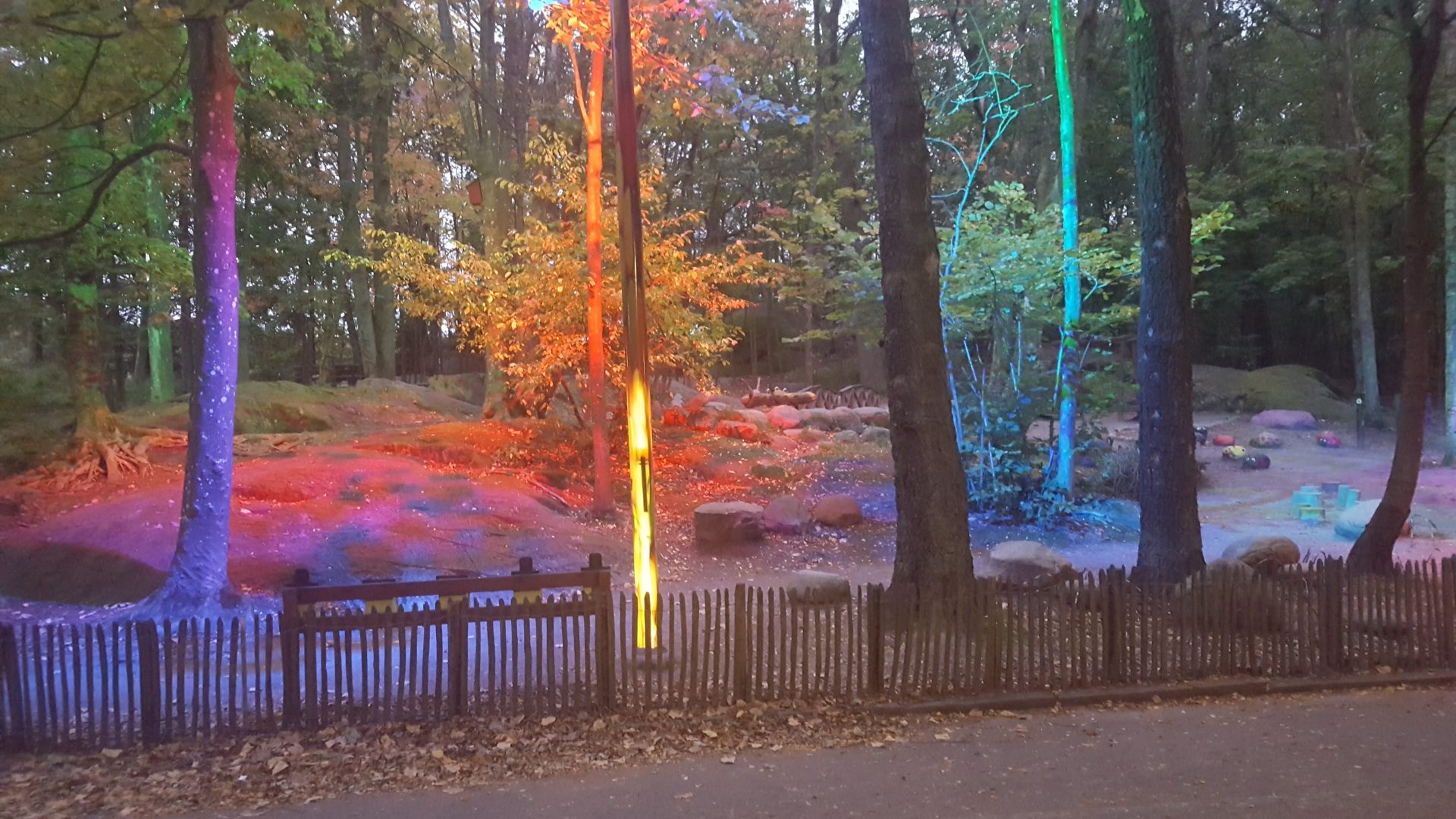 Göteborg Book Fair 2019: Hanguk style
Göteborg Book Fair 2019 provided an opportunity to re-immerse myself in Korean literature and culture via a mini-festival of humanity.
In late September I travelled to the city of Gothenburg (spelt Göteborg in Swedish) to attend Göteborg Book Fair 2019. It's a three-hour trip to Göteborg by fast train from Stockholm. It seemed as if everyone on the train was heading to the Book Fair. On each seat: a copy of the Swedish Publisher's Association magazine. The almost toxic smell of printed brochures cloyed our carriage.
I didn't have any special interest in the Book Fair itself. After all, I'd been to the London and Frankfurt book fairs on several occasions. I'd had my fill of trade-shows and business cards there. I'd also met with printers, editors and developers. Slept in hotel rooms the size of closets. Spent whole days wandering between gigantic pavilions, gripping my lanyard like a talisman.
The Göteborg Book Fair has this trade format in spades. But unlike London and Frankfurt, it also includes a program of seminars and events. In this respect, it's more like a low-key writers festival. This year's iteration featured a special guest: the Republic of Korea (South Korea). And it was the Koreans whom I had travelled to Gothenburg to see, hear and read.
My neverending love affair with Korea
I first travelled to South Korea in 2005 as an Asialink resident. It's no understatement to say that trip changed my life.
Since then, I've returned to Korea several times. In 2009 I undertook a second residency hosted by the Language Translation Institute of Korea (LTI Korea). In 2011, I was part of a delegation of Australian poets who travelled to the country. And in 2013 I spent the first few days of my honeymoon in Seoul.
I've written a book of poems about life in Korea. In 2005 I spent many hours in PC Bangs composing prose poems about imaginary cities. Then, in 2011, I published an anthology of Korean and Australian poets in Hangul and English. I've also been working, for too many years, on a novel set partly in Korea.
So you could say I have a special interest in South Korea. It verges on the obsessional. If not Orientalist. I can see that now.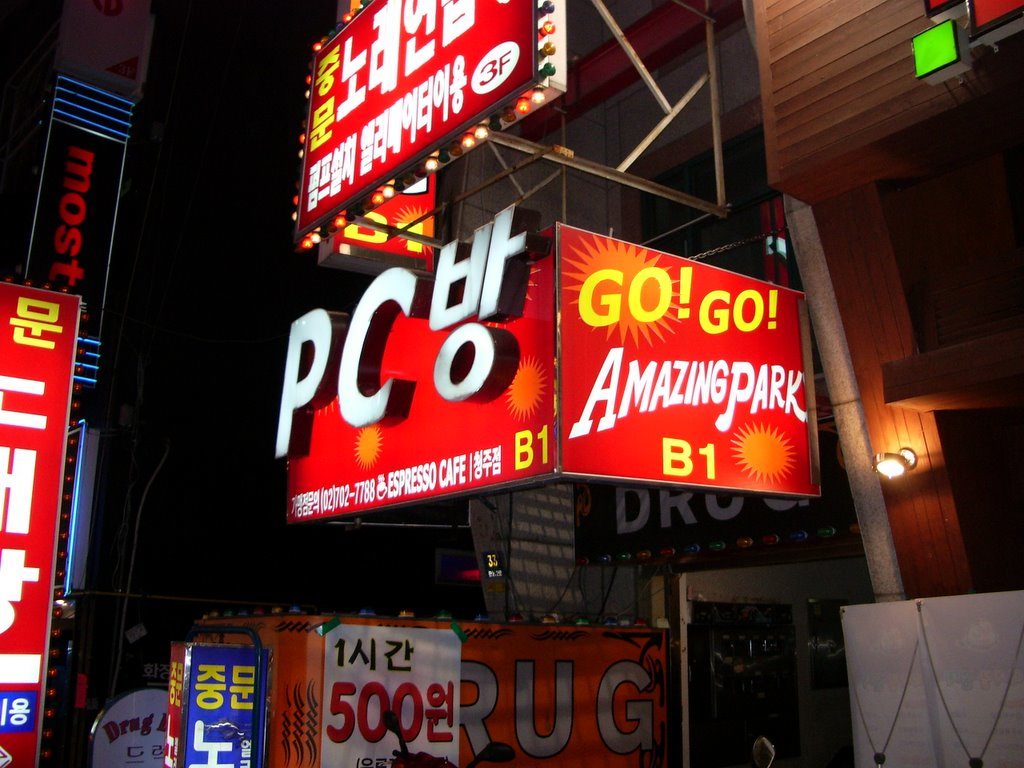 Göteborg Book Fair 2019 Guest of Honour: South Korea
Anyway, enough about me. The point is that I was in Gothenburg for a specific reason. And so were many Korean writers, illustrators, critics, academics and publishers.
It seems that the Göteborg Book Fair invites a special guest of honour each year. Recent guests include Lithuania (2005), Spain (2009) and Brazil (2014). In years without a special guest, the Book Fair responds to a specific theme. This year, we got both.
South Korea was this year's guest of honour and theme country, with a focus on the theme of 'Human and Humanity'. There were six key Korean sub-themes: 'Socio-historical Trauma', 'State Violence', 'Refugees and Humanism', 'Technology and the Posthuman', 'Gender and Labor' and 'Community of Time'.
The Book Fair's other general themes for 2019 included Gender Equality and Media and Information Literacy.
Göteborg Book Fair: the logistics
My train arrived at Göteborg Centralstation at around 10.30 am. I walked from the station to the Bökmassan (Gothia Towers, to be exact). Although I could have jumped on a tram, I preferred to stroll down Avenyn through the crisp autumn air.
I arrived to find the whole place abuzz. Quite large crowds streamed in and out. One or two demonstrations wound around Korsvägen, where several tram lines intersect. Activists held out anti-NATO petitions. Police officers wandered about, while less identifiable 'security' guards hovered, stuttering menace.
I entered Gothia Towers. A Göteborg Book Fair 2019 attendant directed me upstairs, where I bought a student Gold Pass for a mere 800 SEK. I say 'mere' because this is Sweden, where everything is expensive. A day pass for a student cost 450 SEK alone. So, over two days, I was already ahead. And given that the regular Gold Pass cost 3,600 SEK, I felt pretty pleased with myself.
The Gold Pass is also good value because it provides entry to a lounge where you can get free tea and coffee. While Swedish brygkaffe is hardly anything to write home about, I wasn't complaining. It wasn't until the next day I realized my pass also entitled me to a choice tote bag.
With my Gold Pass attached to the inevitable lanyard, I entered the melee of the fair. Most of the events in the South Korean program took place at a special stand in one of the large halls at Gothia Towers. A series of seminars—which were the real highlight of the 'festival'—were held in a smaller room upstairs.
Human and humanity, Hanguk style
I attended three seminars, four author talks and one movie screening over two days at the Göteborg Book Fair. That might not seem like a lot. In truth, I also spent a lot of time walking around. I drank a lot of free coffee, ate a haloumi burger and sat down whenever I could. Then I bought books from the English Bookshop stand (one of the only ones selling English books). At all times, I found it hard to handle the masses of people flowing in and out of the halls. It was pretty tiring.
One thing made the Korean festival-within-a-book-fair untold. The organizers produced three books on Korean literature and distributed them for free. They must have invested some serious won in designing and printing these beauties.
The first, the Human and Humanity program book, contained speaker bios and a running sheet. It also included some fascinating essays on the Korean program sub-themes. Written by Korean academics, they focused on the works of the presenting authors. But they also provided some pretty crucial political and cultural context. I like to think I know quite a bit about Korean politics and history. These essays proved me wrong, time and time again.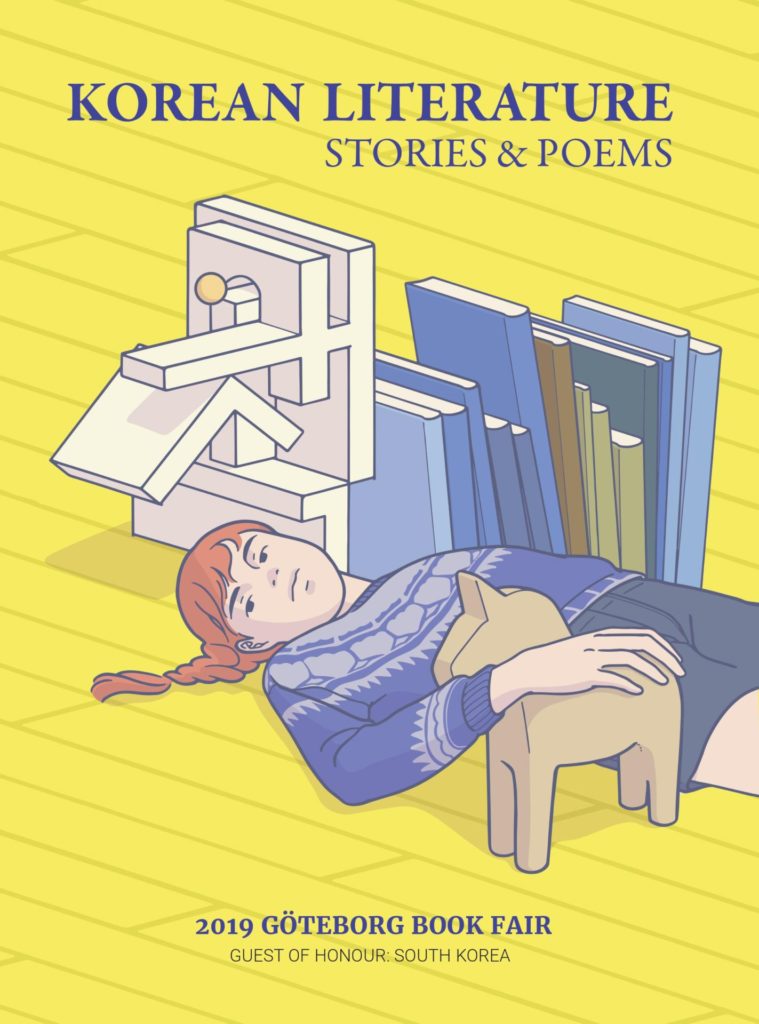 The second book was Korean Literature: Stories and Poems. It was a 245-page sampler of the works of the Korean writers appearing at the Book Fair, publushed by LTI Korea. In my experience it's hard to find translations of lesser known Korean poets and writers. In that respect, this neat collection alone was worth the price of admission.
The third book was a catalogue, containing images from Korean children's books. Having visited Paju Book City, I know that children's literature is big business in Korea. It's a huge export market. In fact, I managed to catch a Q&A with one Korean children's book artist at the Book Fair, Suzy Lee, who is a total superstar.
So, with my books in tow, I set off on my miniature journey through Korean literature today.
All three of the seminar sessions I attended at Göteborg Book Fair 2019 related to Korea. These were a real highlight of the Book Fair for me. The organizers provided simultaneous translations in English, Swedish and Korean). This made the events intimate and intelligent. We could listen in as Korean panellists spoke. We could watch them as they listened to translations of moderators' questions.
I've never seen anything quite like it at a book fair.
The design theme of the Korea Stand

Attending a book fair can be pretty wearing on the feet and legs. What was also pretty tiring was the way in which the Korean stand was set up. According to the rather neat Human and Humanity program book, the stand even had its own designer.

Enter Seong-ho Ham, architect and poet. According to him, "Sadness is the human condition."

Well, okay, but—

"Each of us has our own slope. Humanity begins in recognizing that discomfort and sympathizing with the other."

Fine.

So, the stand was a raised platform "that slopes upward by 1 percent with chairs facing this incline." The audience members sat on 66 chairs placed on this incline. In ergonomics terms, this meant actual physical pain for anyone who sat there for more than a few minutes.

How this idea managed to get past the Göteborg Book Fair OHS committee (if there was one) is beyond me. It also strikes me as being in tune with the hard-edged theme and sub-themes of the stand itself. I can assure you, my hips were aching for days afterwards. But whether that is of significance to anyone else remains, of course, moot.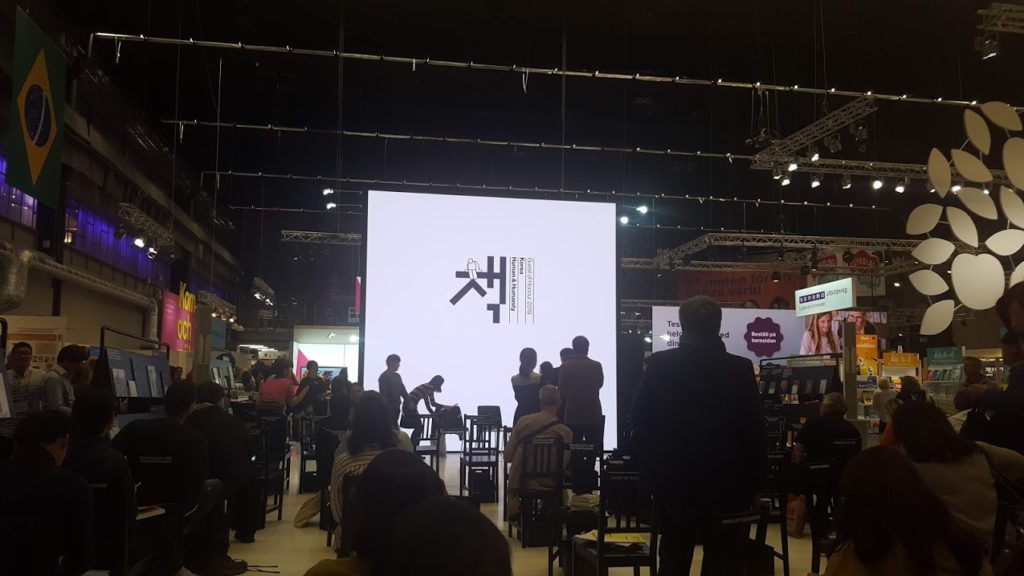 The Human Condition in Korean Society
The first session on my agenda was 'The Human Condition in Korean Society'. The program stated that it would be about the tensions between the old and new in Korea. The unintended consequences of the country's swift development.
The session featured two Korean panellists. Cheon Gwan-yul is a political journalist. He writes for SisiaIn, an independent online news magazine. Lee Sang-heon is a writer and academic. He's also the Director of the International Labour Organization's Employment Policy Department. The panel also included Sweden's former ambassador to South Korea, Lars Vargo.
The moderator, Patrik Lundberg, asked each panellist some pretty searing questions. It may come as no surprise that Vargo painted a predictable and moderate portrait of Korea. I found it annoying that he mentioned 'karaoke' rather than 'noraebang', though. Lee was more nuanced. He reflected on how Korea has copied other systems in the past but now faces a new existential crisis. He also spoke about the concept of 'han' and about inequality in Korean society.
Cheon was the most radical panellist. He's written a lot about government corruption in Korea. I hoped that he might say a little about this. But he seemed to face the most difficult questions, and at times I found this frustrating on his behalf.
This came to a head towards the end of the session. Lundberg stated that the overseas adoption of Korean orphans has been a big issue for Korea. He added that he himself was an adoptee. He then invited the panellists to comment on this issue. For me to say that this is a sensitive issue for many Koreans would be presumptuous. But I could sense Cheon's discomfort. Such a tough question to answer.
The discussion then moved on to the issue of refugees in Korean society. This was not something I knew much about, to be honest. For example, I was unaware that 500 Yemenis seeking refugee status arrived on Jeju-do in 2018. I guess even I'm still stuck in a 'one-blood' conception of Korea.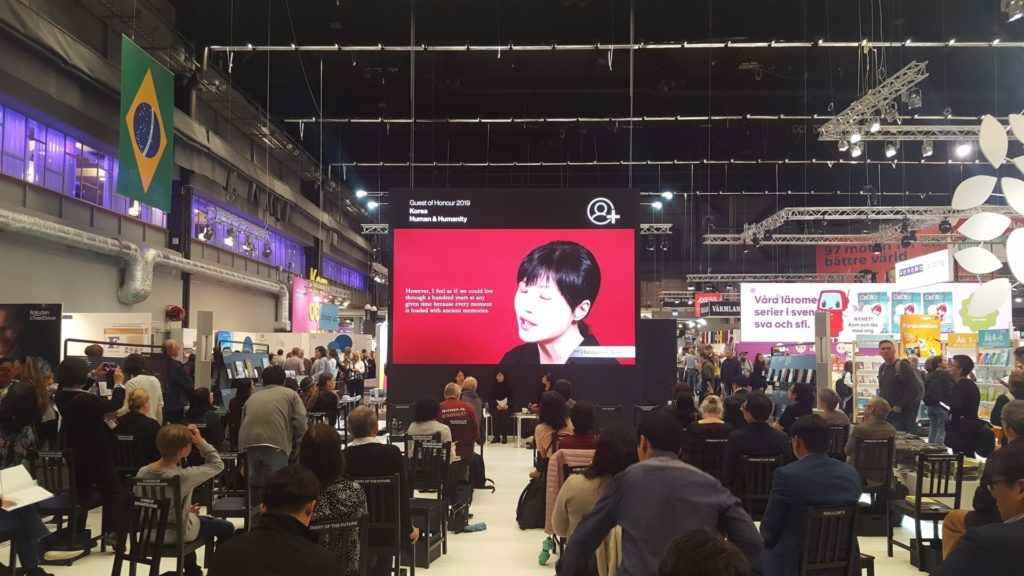 In Human Time
The second session I attended on Thursday had the title 'In Human Time'. As the name suggests, it focused on how we understand time. Or 'towers of time' as the program described it. A tad bombastic but okay. Time was a suitable topic for two Korean poets regarded as 'futurists'.
Both Haengsook Kim and Yong-mok Shin had appeared at the Korean stand (on that infamous inclining stage) to read some of their work. A screen projected their answers to some generic questions about their preoccupations. Simple, yet effective.
But in this session, Yukiko Duke, a Swedish writer and journalist, acted as moderator. She's translated Haruki Murakami's Norwegian Wood into Swedish. Which made me realize how little I know about how Swedes regard (or read) Asian literature.
Anyway, it was nice to see two poets talking about their work. Especially as they are both around the same age as me. Kim's comment on the descriptor 'futurist' also struck me as familiar.
She noted that some critics had used the term to describe her style. But this may have reflected the alien-ness of that style, she said. In that it was a style that people could not yet understand. I suspect many other poets from 'post-2000' generations would have received similar comments.
When Kim added that she was 'trying to write about questions that have no answers', it almost broke my heart.
She went on to describe an experience she had in a hotel on Jeju-do in 2014. In fact, she wrote about it in the sampler made available to Book Fair attendees. But she was there to chair a session at the Seoul Writers Festival. Three times, while addressing the audience, she said '1914' instead of '2014'.
Later, in a hotel corridor, she felt surrounded by spirits from a different era. This led Kim to meditate on the quality of time. In fact, she admitted that 'within my body there are two modes of time'. I can kind of relate to that!
Yukiko Duke is a sympathetic interviewer. She managed to draw out each poet on the themes in their work. But I found her reference to Indigenous Australian concepts of time a bit strange.
Duke also introduced each poet's work by inviting them to read. I also found this a little odd, given the short time available in the session. Anyone interested in their poetry could read it in the program anthology. Or attend the separate readings.
But then I heard both Duke and Yong-mok Shin read his poem 'Community' and something clicked into place:
May I use the dead person's name? Since he's dead,
may I take his name? Since I gained one more name today
the number of my names keeps increasing …

—Yong-mok Shin, 'Community' (translated by An Sonjae)
Shin also weighed in on the 'my generation' debate. He pointed out that political and aesthetic progress in the 1990s did not coincide. In other words, younger Korean poets have needed to do a lot of experimenting. Or at least that was my hot take.
Then he spoke of a student friend who had self-immolated. The reference was almost casual, but I've heard Koreans stating similar things. This tragic event had provided a motivation for Sin to write.
Shin concluded by emphasizing how mystical it is that we live in different times in our bodies. Experiencing the same thing at the same time. In the end, "reading poetry in this place is proof that we exist in the same place".
And with that we all picked our jaws up off the floor and moved out of the auditorium.
That evening, after checking into my Air BnB stuga, I took a stroll through the Botanic Gardens. I then grabbed some dinner at a Japanese restaurant in the Haga precinct in downtown Göteborg, before catching a tram back to home base.
And thence, dear reader, to Bedfordshire.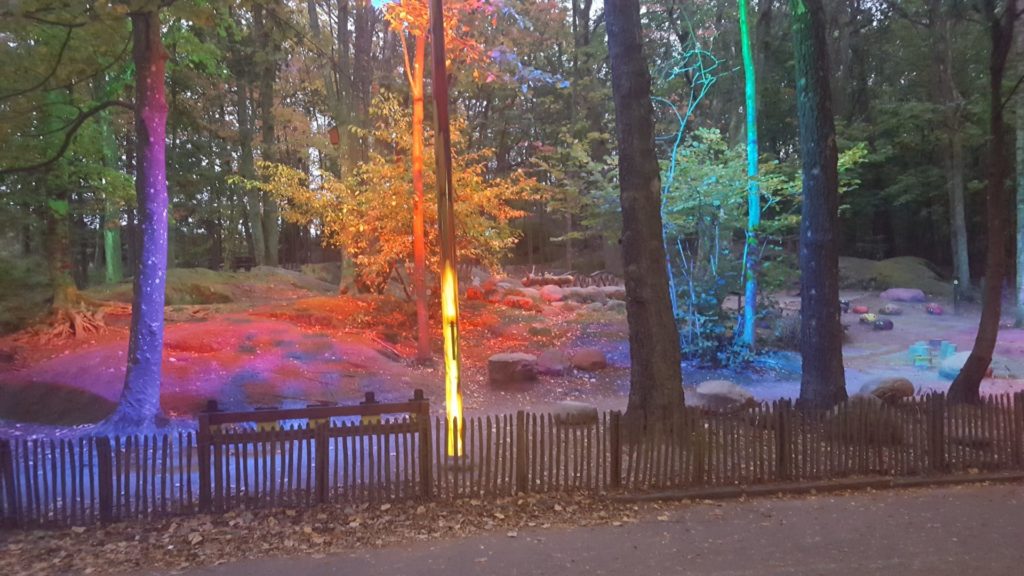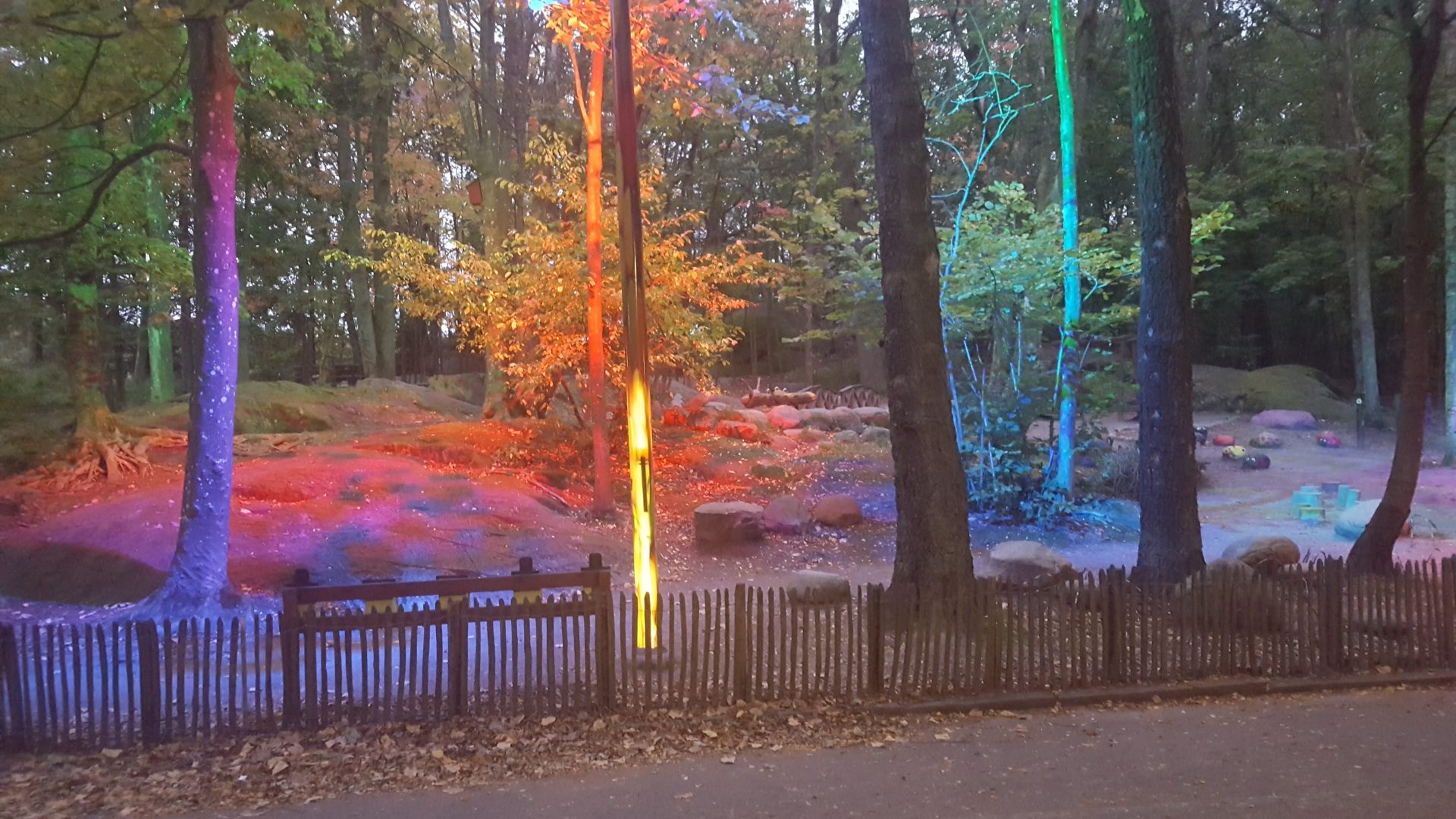 Social-historical Public Trauma at the Göteborg Book Fair
The third session I attended, on the Friday afternoon, was the one that everyone wanted to attend. Han Kang was on the panel.
It's safe to say that Han Kang is a literary superstar, almost a household name by now. That's what happens when you win the Man Booker prize. Or write a book that no one alive today will get to read. She could have filled an auditorium appearing all by herself. Which made it strange and intriguing that the organizers sttuck her on a panel. In a room with capacity for around 100 people.
Needless to say, I fought my way into that auditorium with vigour. By that time, deep into my second day of the Göteborg Book Fair, I was an old hand. Swedish queues are the stuff of myth. There are rules and regulations governing how to queue for a bus. How to stand in line at a health centre. How to navigate a kölapp (paper ticket) system. This one was no exception.
I'd seen the queue for previous sessions stretching in to the distance. So I made sure I got there early. To each person inquiring whether this was the queue for Han Kang, I answered in the affirmative. I gave nothing else away. Not even an inch. As the queue snaked forward I remained in my place, a neutral expression on my face. In the end, I was one of the last people let in. It seemed like at least one hundred people behind me missed out.
Anyway, it wasn't all about Han Kang. This session also included Eun Young Jin and Athena Farrokhzad. All three writers discussed the issue of social-historical public trauma from interesting perspectives. Mats Almegard, the moderator, did well to keep the conversation on track.
Jin discussed the Sewol ferry tragedy, and her own response to it as a poet and writer. She described how she wrote a poem for a girl named Ye-eun, one of the 250 school students who drowned on 16 April 2014. "I had to write that poem," she explained. Farrokhzad also discussed the tragedy of the 1998 discotheque fire in Göteborg. The fire, lit by a group of boys, killed 63 young people. Grim but moving stuff.
Kang discussed The White Book and Human Acts, two of her most well-known books. The latter deals with the 1980 Gwangju massacre. Again, hardly cheerful stuff. But it was fascinating to watch the way she answered the moderator's questions. Sitting so still as she listened to the translator. Narrowing her eyes in an enigmatic way. Was I projecting? It's possible.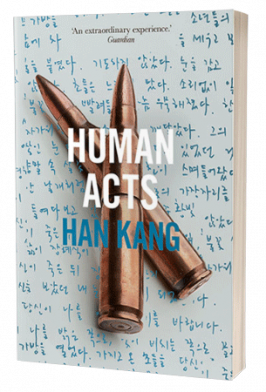 Kang spoke at some length about the process of writing Human Acts. It got to the point, she said, where the book was writing her. Sure, it's a phrase one often hears but in this case it seemed compelling. She described how difficult it was to find the voices of the victims of the massacre. The polyphonic nature of the narrative, in the end, provided a way to work through the events of 1980.
The session ended too soon for everyone's liking. As we filed out, a new queue formed in the foyer. Fans stood in line, waiting for Han Kang's autograph. An assistant performed triage, asking what they wanted inscribed in their copies. I left them to it.
The staff at the Korean stand had told me there were no copies of any of the Korean writers' books available. But I took the stairs down to the main hall of the Book Fair and came to the English Bookshop's stall. I noticed they had copies of Human Acts, as well as some other books. I purchased a copy and raced up the stairs. But it was too late.
Han Kang had left the building.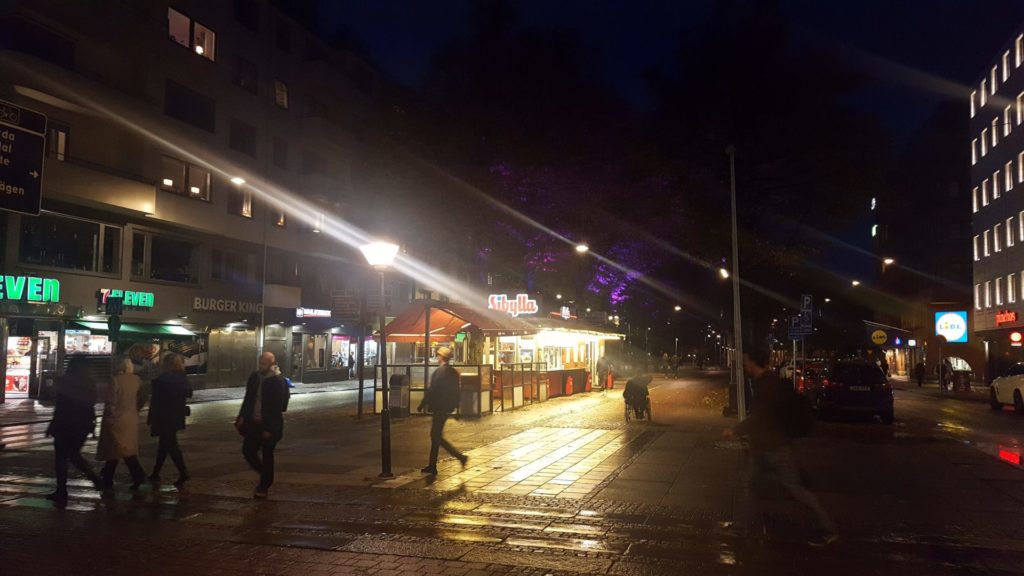 Epilogue: station to station
As for me, it was also time to head home. But I still had several hours to kill before my train departed. I left the Bökmassan and headed over to Göteborg's cultural precinct. There, in the cute-as retro Bio Roy, I caught a screening of a Korean film.
Seoul Station (2013), directed by Yoon-ho Bae, unlike the zombie film of the same name, is a documentary. It chronicles the experiences of labourers renovating the Old Seoul station building. Built in 1925, the building is a relic of Japanese imperialism—a topic discussed at length in the film.
In 2011, the renovations completed, the station was 'reborn' as Cultural Station 284. The 284 refers to the station's previous designation as a Historic Site.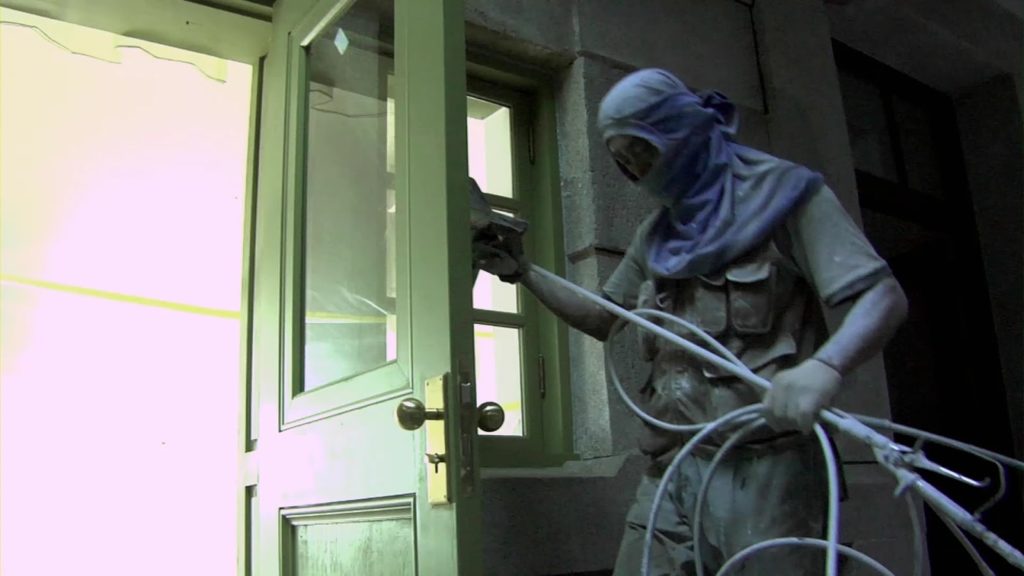 The film has no narrator. It features interviews with workers, including migrant workers from China and Viet Nam. It was a sobering experience to see the looks on their faces at the Cultural Station 284 opening. As if to say, 'We slaved away in substandard conditions for this?'
I'd like to say the film was a fitting finale to my two days of Korean culture but I'd be kidding myself. Like the entire program, it posed uncomfortable questions about labour and culture. It attempted to show a non-glossy side of Korea that I found refreshing and honest. It made me ponder my own privilege as I trudged down Avenyn towards Göteborgs Centralstation.
I regretted not staying for the entire duration of the Book Fair, as I missed the chance to see a number of other Korean writers. But after two days, I was ready for a sit down. Which was just as well. My return trip to Stockholm ended up taking more than five hours. I did not arrive home until 2am the next morning.
As with my outward journey, I suspect most of my fellow passengers were also returning from the Göteborg Book Fair. Only this time, the carriage no longer smelt like coated printer's paper. Was it my imagination, or did the whole train smell like bibimbap?